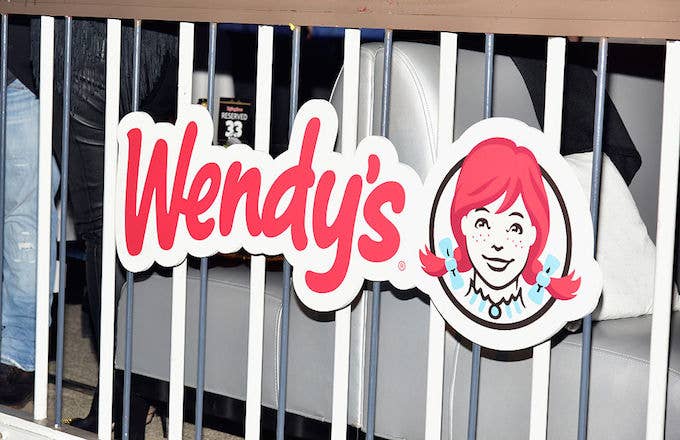 Wendy's wasn't kidding. The fast-food giant followed in the footsteps of Hamburger Helper on Friday and actually released its own mixtape titled We Beefin'.
It's shameless and unnecessary, but admittedly entertaining.
The five-track tape features titles like "Twitter Fingers," "Holding It Down," and "4 for 4$," all of which are delivered by a female rapper who takes on the persona of the chain's eponymous mascot. "Redhead with some pigtails / Better check the score, my meals sell / Now that's better, I'm so clever / My bars chilly, better grab a sweater," she raps on "Rest in Grease."
The tape also includes some much-appreciated disses directed at Wendy's biggest rivals, most notably McDonald's:
You number 1? That's a joke
Why yo' ice cream machine always broke?
Why yo' drive-thru always slow?
Why yo' innovation just can't grow?
It's queen Wendy, need I say mo'?
[...] Them lil tweets don't phase me, McDonalds be so lazy
I know the reason you hatin' me 'cause I'm fast food's First Lady
And you already know Burger King wasn't getting a pass:
Can't be no king, yo' burgers ain't the finest thing
I can't believe you peasants have the audacity
You took a L the day you thought to come after me
So whats the beef?
They threaten and now I really see 
And BK, don't think that you got away
You copied my old menu and put it out on replay
Savage.
You can stream We Beefin' now on Tidal or via Spotify below.