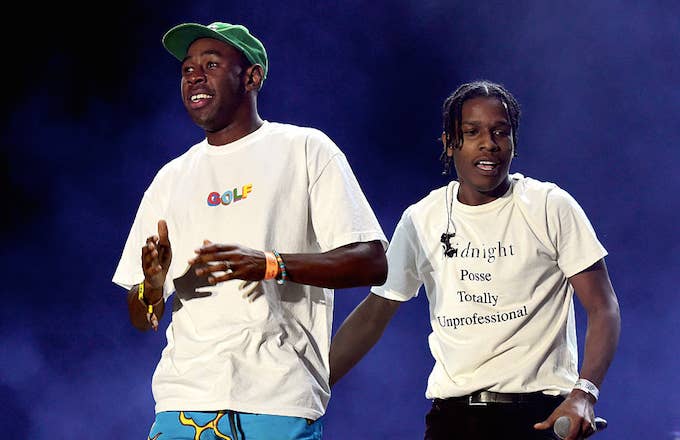 ASAP Rocky and Tyler, the Creator are bromance goals.
On Friday night, Rocky went to Instagram to promote his upcoming album, which is presumably titled Testing. The Harlem rapper posted an image of the Mercedes Benz logo with the recognizable black and yellow crash-test colors. Tyler, being the good friend that he is, decided to hop in the comments section to share his thoughts on the latest teaser: "NO ONE CARES."
Honesty is key to a solid friendship, after all.
The comment, which was pointed out by HotNewHipHop, prompted Flacko to write a response—a much more intense, and entertaining, response.
"GET YO DIRTY ASS OUT MY COMMENTS B4 I TELL NIGGAS HOW I WROTE YA WHOLE LAST ALBUM AND AINT GET NO CREDITS."
Now, before some of you start spreading rumors of a Rocky-Tyler beef, just remember that they've had nothing but love in recent years.
Earlier in the decade, there were whispers that Rocky's and Tyler's respective crews, ASAP Mob and Odd Future, had some sort of beef with each other. Those rumors seemed have started after Odd Future's Hodgy Beats posted a tweet that appeared to suggest Rocky was unoriginal. It simply read, "Asap copy."
Though many assumed there was some animosity between the two collectives, Rocky later shot down the rumors and insisted there was no bad blood on his part.
"I like them niggas. I ain't no hater," he told AllHipHop in 2011.
Since then, the two rappers have performed on stage together and have also collaborated on a number of tracks, including "Who Dat Boy," the lead single off Tyler's 2017 album Flower Boy.