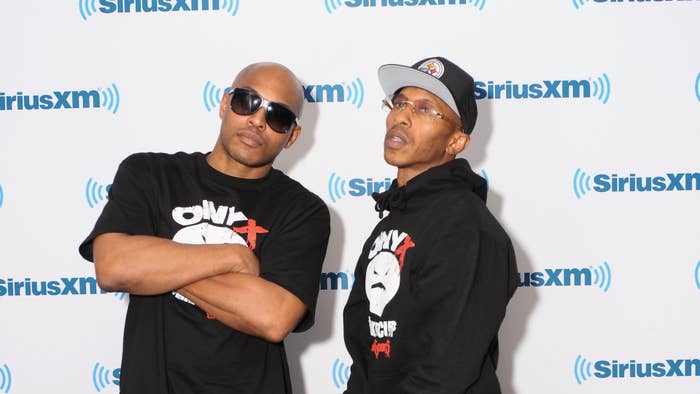 It's another West Coast vs. East Coast showdown.
Tonight, Los Angeles' Cypress Hill will go head-to-head with Queens' Onyx in Verzuz's much-anticipated "Fight Night Music" battle. The livestream is part of the TrillerVerz 5 "Lineage of Greatness" event, which will feature fights between some of the most iconic boxing families, including the Vargases, Pulevs, and Holyfields.
Onyx was founded more than 30 years ago in South Jamaica, Queens, by Fredro Starr, Sonny Seeza, and Big DS, who died in 2003 after a battle with lymphatic cancer. Sticky Fingaz joined the group in 1991 and remains an active Onyx member alongside Fredro. Onyx released their debut album, Bacdafucup, in 1993, and went on to drop 10 more LPs; the latest of which, Onyx Versus Everybody, arrived on Friday.
Since forming in 1988, Cypress Hill has released nearly a dozen studio albums and multiple No. 1 tracks, including "Insane in the Membrane," which earned the group its first Grammy nomination. Current members are Sen Dog, Eric Bobo, and B-Real, who spoke about tonight's battle during an interview with AllHipHop.
"Our thoughts are in the game for sure, because we ain't never in it to take the No. 2 spot," B-Real said about his group's preparation. "We're crafting it. You got to, you got to give those dudes (Onyx) their respect. They got a strong getdown. You can't underestimate anybody, especially from the '90s golden era of hip-hop who had hit songs that toured the world. They have music to stretches, you can't ever underestimate that. What we are going to do is put on a good show for the motherfuckers watching and the people watching the stream, because that's what we do."
You can watch he Cypress Hill-Onyx Verzuz battle with the TrillerVerz Pass or on Fite.tv.