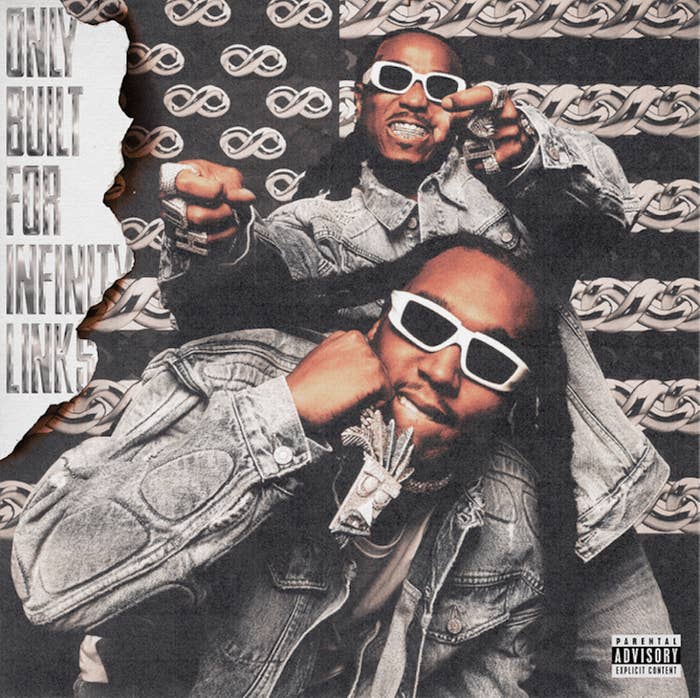 Quavo and Takeoff have unleashed Only Built for Infinity Links, their first full-length record under the Unc & Phew moniker.
The ATL rappers/family members began working on the project about two years ago, as they prepared to deliver the Migos' Culture III album. Quavo and Takeoff spoke about the effort in a new interview with Complex's Jordan Rose, explaining their overall vision and hopes for the release.
"We just want [listeners] to know that we're consistent individually, as a duo, and as a group," Quavo said about OBFIL. "People always ask for the [Migos] altogether. A lot of people love that, but at the same time, even when we would go off and do our own features and other things, it's always successful. We're just learning from each of our lives. Like I said, it was always just about the three of us and living fast and going crazy, now it's just about giving them the origins and legacy and what we have done.. People can get lost sometimes, so we have to let them know that we started this and [that] we're still here."
Quavo, 31, and Takeoff, 28, said they drew inspiration from some of hip-hop's most iconic duos: the OBFIL album art was a nod to OutKast's Stankonia cover, while the title was a reference to Ghostface Killah and Raekwon's 1995 project Only Built 4 Cuban Linx. 
"One night, we're out at a little sports bar, and Raekwon walks straight in the building," Quavo recalled. "So I went up and talked to him and just let him know that we appreciate what he's done for the culture and what he did for us as a group, and that as we branch off as a duo, we're still following in his footsteps. We asked for his blessing, and he was with it and said he loved what we did. It's been genuine ever since."
OBFIL spans 18 tracks, including the previously released "Hotel Lobby," "Nothing Changed" (which they performed on Fallon last night, above) "Big Stunna" with Birdman, and the Gucci Mane-assisted "Us vs. Them." It boasts additional guest appearances from Young Thug, Gunna, YoungBoy Never Broke Again, Mustard, and Summer Walker.
Stream the first Unc & Phew album below via Spotify.