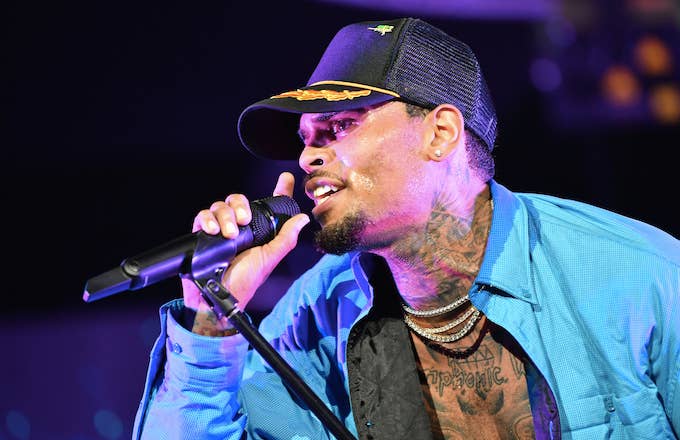 Chris Brown thought it'd be a good idea to make light of 21 Savage's immigration case. And Offset wasn't amused.
Shortly after 21 was arrested by U.S. Immigration and Customs Enforcement, Brown hit up Instagram with a meme that seemingly mocked the rapper's legal situation. The video features a clip from 21's 2016 XXL Freshman cypher and replaces the original audio with "Man's Not Hot" by English rapper/comedian Big Shaq.
"CMON FAM, STOP PLAYING WIT DA MANS DEM," Brown wrote in the caption.
Offset evenutally noticed the meme and decided to hop in the comments section to call Brown out: "Memes ain't funny lame," the Migos member wrote.
Offset also took to Twitter to defend 21 and to criticize those who make jokes about 21's arrest or nationality.
The news comes a couple years after tension between Brown and Migos erupted when Quavo was linked to Karrueche Tran, Brown's ex. It nearly led to a physical altercation between the artists and/or their teams at the 2017 BET Awards.
On Sunday, 21 Savage was arrested in Atlanta for allegedly overstaying his visa. Attorneys have confirmed the 26-year-old rapper—legal name She'yaa Bin Abraham-Joseph—was born in the United Kingdom and came into the U.S. legally when he still a minor. 21's team said he had obtained a valid H-4 visa in 2005, but "lost his legal status through no fault of his own" in the following year.
"Mr. Abraham-Joseph, like almost two million of his immigrant child peers, was left without immigration status as a young child with no way to fix his immigration status," his lawyers wrote in a statement. "There continues to be no legal reason to detain Mr. Abraham-Joseph for a civil law violation that occurred when he was a minor, especially when people in his exact situation are routinely released by ICE."
21's detainment has sparked countless jokes and insensitive responses. Demi Lovato faced backlash after tweeting about how much she was enjoying all the 21 memes during Super Bowl. The singer has since deactivated her Twitter.