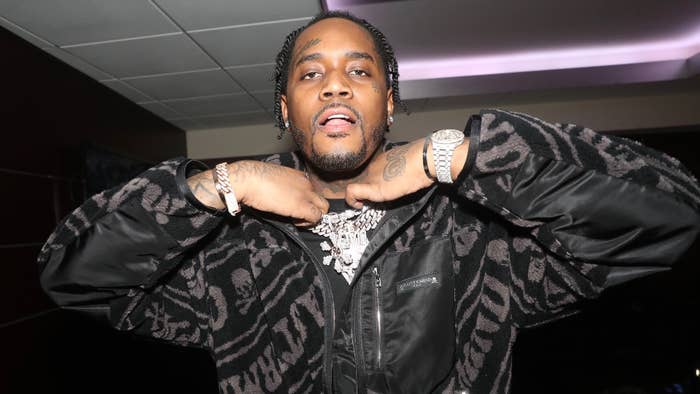 Fivio Foreign expressed regret over a sexual encounter he had in high school.
During a recent episode of Dirty Street Confessions, the Brooklyn drill rapper revealed he once had sex with his sister's sister … while they were all in the same room. Fivio told host Supa Dupa Humble that he and the girl weren't blood-related because they both shared a half-sister from different parents. (Fivio and his sister have the same mom, while the two girls shared the same dad.)
"My sister, she been left the house, right? She came back and spent the night in my house, with her sister from her father's side," Fivio explained to the social media personality. "She wanted to fuck me. I was a kid, I was in high school. My sister's sister [...] she wasn't related to me. I fucked her. But let me tell you why it was the worst: because my sister was in the room and it was nighttime, we were all asleep—sleepover thing, and I had to go viral on her and I just felt like I shouldn't have did it."
The clip, which was posted Wednesday, drew mixed reactions from fans; many were amused, some were shocked, and others were down-right disgusted.
"I can't keep defending you, Fivio," one person commented on Instagram.
"Yeah uncle Fivi, you should've kept this to yourself," another wrote.
"N***as out here hunchin family members??!?" one comment read. "It's a wild world."
Elsewhere in the interview, Fivio spoke candidly having a threesome with a pregnant woman, his preferred style of oral sex, his go-to search term on PornHub, and his foot fetish. Check out the full conversation at Supa Dupa Humble's Instagram page.