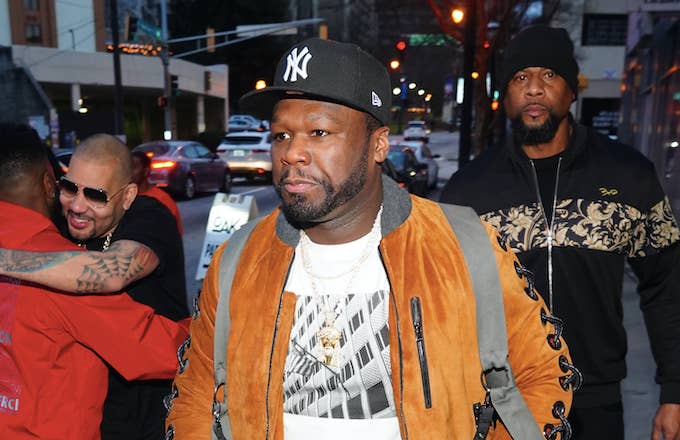 Lord Jamar has found himself in 50 Cent's crosshairs.
During a recent interview with RapMatic, the the Brand Nubian member decided to unload his foe Eminem. Lord Jamar challenged Shady's status in the game and claimed black people don't listen to his music.
"My thing about Eminem and all that, and I hate bringing his fucking name up—my thing about this mothafucka is you can't crown somebody king and circumvent the true kingdom," he said. "Like, white people will crown Eminem king because he sold the most records out of all rappers. But, when we go into everyday life of black people, people who are the originators of this sh*i, we don't fucking listen to Eminem. We don't listen to Eminem."
He continued: "If you're talking about smacking your mother and taking pharmaceutical pills and the shit that doesn't resonate with me, why do I care how good you can rap?"
50 caught wind of Lord Jamar's comments and immediately defended Eminem, who signed Fif to Shady Records in 2002.
The G-Unit rapper posted a photo of Lord Jamar with words "clout chasing" written under his face. He then went off on the NY rapper in typical 50 fashion. 
"Lord Jerome better sit his ass down," 50 wrote. "I thought you died already N***a. Get the fuck outta here. You ain't [Brand Nubian member] Grand Puba anyway. I'm gonna need a bum ass n***a in one of my shows. I'll be reaching out shortly."
During a 2013 VladTV interview, Lord Jamar called Em a "guest in the house of hip-hop." The Detroit rapper responded to the comment on the Kamikaze track "Fall," rapping: "And as far as Lord Jamar, you better leave me the hell alone/Or I'll show you an Elvis clone/Walk up in this house you own."
Lord Jamar claimed he was not impressed by Eminem's bars, and declared himself the winner in the beef—or whatever it was. 
"See, I'm a chess player, OK? If he didn't respond, I win. And if he responds, I win. Either way, I win, OK?" he said on the Yanadameen Godcast podcast with Rah Digga. "Because you are now doing what the fuck I wanted you to do. I have made you modify your behavior. I got into your psyche. You sat there and had to fucking sit down and try to think of some shit to respond to Lord Jamar's jabs that you know you could not escape. It was just inescapable."