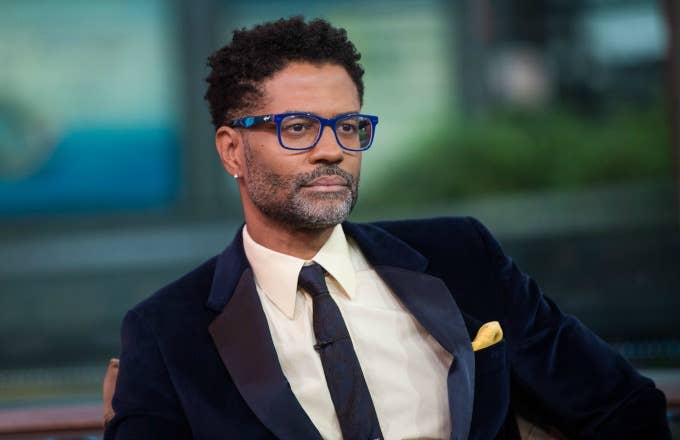 Jay Z took a number of subliminal shots at Kanye West, Future, and more on his new album, 4:44. If you didn't catch all of them on your first listen, we broke down a bunch of those subs here.
But Jay's 13th solo album also features him taking a few not-so-subtle shots, including one that he took at R&B singer Eric Benét on the album's first song, "Kill Jay Z." On the song, Jay rapped:
"You almost went Eric Benét/Let the baddest girl in the world get away/I don't even know what else to say/Nigga, never go Eric Benét"
For those unfamiliar with Benét, he was married to Halle Berry back in the early 2000s. But the couple split less than three years after they tied the knot amid cheating rumors on the part of Benét. He eventually confessed to being a sex addict and went to rehab for it. But ever since his breakup with Berry, he's become a punchline for ruining his relationship with one of the most beautiful women in the world.
Jay Z's line about Benét on 4:44 further perpetuated that notion, and it obviously did not go unnoticed. Shortly after 4:44 dropped and people pressed play on "Kill Jay Z," they started to go wild over the Benét reference with most people assuming that Benét was sitting at home mad about what Jay said about him. The reactionary memes were out in full force:
Now, it should be noted that, despite breaking up with Berry and eventually divorcing from her in 2005, Benét did seemingly turn things around in his personal life a few years later. In July 2011, he married Manuela Testolini, who is Prince's ex-wife, and the couple has two children together.
So at around 3 a.m. on Friday morning, Benét took to Twitter to issue a response to Jay. He responded to him with this:
But Twitter is Twitter, so within just minutes of Benét sending that tweet out, people started clowning him even harder than they did originally. They also suggested his wife had forced him to respond to Jay:
Whatever the case, we suspect Benét won't be the only one to issue a response to Jay in the coming days and weeks. As we mentioned, Kanye, Future, and others might have something to say, too. But for now, Benét is the only one who has directly addressed a shot Jay took on 4:44, even though most people seem to be arguing that he probably shouldn't have.