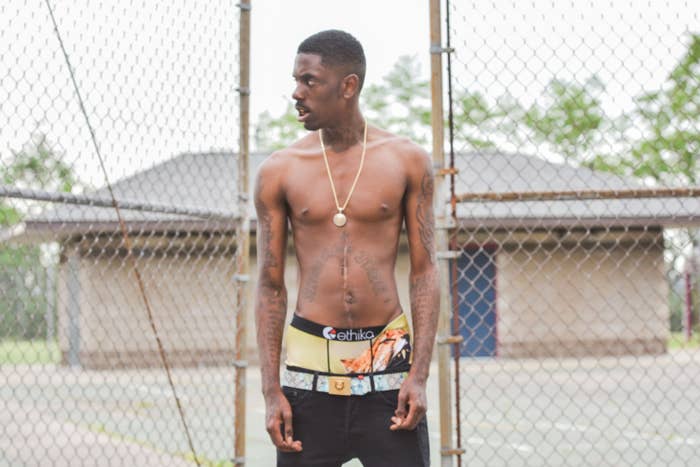 Over a decade removed from a wiry kid claiming to be the prince of the city, there's a new coronation happening in Pittsburgh. The city's rising star is a 20-year-old rapper from the Hill District—Pittsburgh's historically black and embattled neighborhood—who tells a story that diverges from the weed-laced pop of his forefathers, Wiz Khalifa and Mac Miller.
His name is Jimmy Wopo and he knows how to make a first impression. This stark opening line "Outchea gangbangin I was born in the '90s" is how the world outside the Steel City first met him, on the song "Elm Street." It was one of Jimmy's first viral successes and exemplifies his aggressive and straightforward appeal. In April, Jimmy dropped the mixtape Jordan Kobe, a project indebted to summer joy that then bleeds into a colder season plagued by death and incarceration. Paranoia and pain defines the project lyrically and sonically.
 In a phone conversation with Complex, Jimmy detailed the importance of Pittsburgh, how a project building with a prophetic address gave him the inspiration for Jordan Kobe, and the reason Kendrick Lamar's "Humble" gave him the drive to make one of the hardest songs of the year. 
When did you first start rapping?
I been rapping since I was a young bull, since I was 7 or some shit. 
Who inspired you to pursue music?
It was something I like doing. It ain't hard for me to get into. School, I don't really get into all that. I was in the streets. I was out there, but that wasn't what I liked doing. I wasn't making ends meet.
What does Pittsburgh mean to you?
The city, it means a lot to me, and it means more to me now that I'm in control. The shit that I do, my actions reflect on the city. Now I take it more serious how I represent where I come from, because more people watching. 
Do you have any musical influences people would be surprised by?
Music that influenced me was really local music even though there ain't no Pittsburgh rappers that's really on besides Wiz and Mac when I was coming up. But then it wasn't even the people I'm talking about when I say local. Just regular local rappers, old artists in my neighborhood. I used to look at them niggas like they was stars. 
I was watching a video where you detailed getting shot—did that change the way you approach music or rapping?
It changed my life the second time I got shot, but it never really changed my music. It just gives me more push, because just two years ago I was somewhere getting shot up. Now I'm doing this. It keeps me going in a positive route. Cause really nothing happen positive when I was doing negative shit. It's a reminder when I look at my stomach, my arm, my shoulder, my leg, whatever. I'm still getting bullets took out of me. On the 22nd I gotta go get a bullet took out my leg.
Would you tell the story behind one of your first big viral hits, "Walkn Bomb"?
I got dissed from some nigga from the city. He's very poppin. He ain't just dissed me though, he dissed a bunch of niggas in the song, he talking to damn near the whole city. It needed a response. He was too crazy. It was at the beginning of the song and shit. He didn't know me from a can of paint to be talking like that. 
So I responded to this shit, it dropped, it was cool. Couple people said it was washed. Couple people said it was weak. Couple people said it was hard. I didn't pay no attention. He really came at me so I came back. I wasn't worried about that shit. I wasn't sharing that shit for real. I wasn't playing that heavy.
Then I got shot, so I wasn't focused on that shit. I was focused on beef and all that other shit. I had so much going on that summer. By the time I shook back from getting shot it was like October. I dropped that shit in the beginning of June, or May. I had never really paid attention to it until I was in the hospital. I checked back in the hospital and it was like October. I start looking that shit was up more than any other of my shit had ever had. Niggas telling me that was what you really need to be doing. People start to call me for shows from that. 
What was the inspiration behind the title for your mixtape, Jordan Kobe?
There was this little project building [called]2423, that's the address on that block.
We had this abandoned crib on the first floor. Someone had lived there, and they just left. They weren't coming back. They didn't want to the live in the projects. They gave us the keys though. Rent in the projects is like 25 dollars—we weren't even worried about whether it was paid or not. We stayed there, notices coming to the door and all summer. We never left though. We had so much fun. That was the last time I was really with all my Day Ones. 
Niggas done got something like ten years in jail from that summer, that got killed—a lot of shit happened after that summer. That was the last real time that we had, that building. We even got a video if you really want to see how we was living. It's called "I Gotta Win," shot at 2423.
"Bench Boy" is different than a lot of your darker, grittier music. What inspired you to make that song?
I made "Bench Boy" when I was like 17. I made that a long time ago. My man Ebo, he's a street nigga. He had a lot of change. He was like one of the first niggas—I think it was before the second time that I got shot—he was trying to invest in me, like "Bro, you need to switch your style up."
This was before "Walkn Bomb." "You need to talk about some other shit. How these lames out here." He had some money behind me; I had never had money behind me. I was feeling confident to switch it up and talk that money shit. I got in there on the "Bench Boy" and I just shitted on niggas for real. Niggas on the bench? I'm out on the court right now. He made me feel like it was a new start.
Some people say Kendrick Lamar's "Humble" is similar to "Elm Street." What was your reaction when you first heard "Humble"?
I said, man, get out of here with that shit. That shit don't sound like "Elm Street"—get out of here. I'm ain't trying to hear that shit. Don't try to put me in none of that shit. That's what I was on, bro. I watched the video, I kept listening to it. Now every time I see it I feel a little type of way a little bit. But I was like, nah, like fuck it. When I see that shit sometimes I'm like, damn, cuz. That shit has 104 million on that joint, dawg. I just feel a little left out, bro. That's it. That's all.
I can't say that, cause you never know. They really might've just came up with that shit and that's just how they did. You can't be mad, because it sounds like something that's yours. Mike Will is really here and that's a hot sound. 
One of the hardest opening bars of the year is "Just to be exact I was born in '97/So nigga this not crack, its heroin," on "Elm Street 2." Can you explain the thought process behind that line?
I'm not gonna lie, I had Kendrick on my mind. I had Kendrick on my mind in the studio. I wasn't saying some wild shit, but I was saying some wild shit. I wasn't trying to diss him or nothing. I wasn't trying to do nothing too extra. I don't know how far the song could go. I didn't even know how much publicity I get back from this shit. I wasn't trying to start no shit. I ain't got money like them niggas do. You can't be beefing with niggas when you don't got money like or even playing with niggas when you ain't got money. Plus, I fucks with them niggas. I fuck with Kendrick's shit. My mom loves that nigga's shit. And Mike Will, he sent me beats before, so I'm cool with them niggas. I ain't trying to fuck up anything with them niggas. I was just thinking of that shit. I need to let him know where I'm coming from. I'd like them to know where I'm coming. It was a sneak joint. It was a sneak blow.
Do you feel like you have a chance to make Pittsburgh music break nationally again?
I feel like I got a chance. I gotta keep going hard. I got nothing else to do with my life anyway now. I'm stuck in this shit. I'm about to go stupid crazy until I break the door down for good. 
What advice do you have for other rappers or artists coming from your city?
Nobody can say that I owe them nothing, or that I wouldn't been in the situation that I'm in without them. I always invest in myself. No matter if I had 200 dollars, I pay a buck-fifty for my videos by myself. I shot my videos. And we was in the streets hanging. I still took my whole two hours out the day and went to the studio. I did that shit myself. Before it was anything finished.
So I feel like, whatever you doing, anybody coming out in Pittsburgh, keep doing it. No matter if they supporting you or if nobody doing that shit with you. Keep doing that shit. That's the only way you gonna make it poppin.