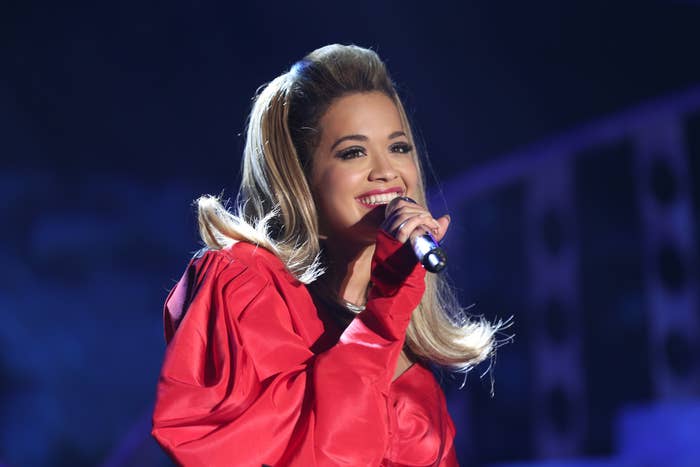 In June of 2011, Nicki Minaj was photographed by paparazzi leaving dinner at Katsuya. Along with the usual chorus of, "Nicki, how are you?" and "You look great tonight, Nicki," the rapper was asked a more poignant question: "Nicki, what do you think it's gonna take for us to get a gay rapper?" Minaj responded casually: "I am a gay rapper. You got one."
Nearly seven years later, we have a number of other gay rappers, too: Frank Ocean, occasional rapper, came out as bisexual via open letter on Tumblr the next summer. More recently, Tyler, The Creator's critically acclaimed album Flower Boy included multiple allusions to him not being straight. BROCKHAMPTON figurehead Kevin Abstract raps openly about being gay. Outside of hip-hop, we have artists like Halsey, Sam Smith, Sia, Troye Sivan, and Tegan and Sara, whose voices have also contributed to a more diverse and welcoming landscape.
But while these artists' successes indicate that progress has been made when it comes to representation, we've still got a long way to go. Just a few months ago, Migos' Offset rapped, "Pinky ring crystal clear/ 40K spent on a private Lear/ 60K solitaire/ I cannot vibe with queers" on YFN Lucci's track "Boss Life." (Offset later claimed that the word "queer" was not used in reference to gay people, but to mean "strange or odd.") This casual use of homophobic language, especially in music made by cis, straight men, is unsurprising. Still, as a bisexual woman (and Migos fan), it's difficult to reconcile.
This type of speech, which certainly extends beyond hip-hop (Guns N' Roses recently removed their song "One in a Million" from the reissue of their album Appetite For Destruction, due to its use of the word f****t and the N word), impedes the already slow-moving progress that has been made. But even though we often hear it from men, they're not the only ones partaking in it. Women in the music industry, both straight and queer, contribute to this landscape as well, often through facetious allusions to queer sexual attraction.
The most recent example is Rita Ora's single "Girls," which dropped last Friday and features Cardi B, Bebe Rexha, and Charli XCX. Despite Ora's description of the song as "a real gender-fluid freedom record," it received serious criticism from many pro-LGBTQ+ listeners, mostly notably Kehlani, who recently came out as pansexual. The singer first emphasized her love and admiration for each of the artists on the track, and then went on say:
Pop singer Hayley Kiyoko, who identifies as gay, also criticized the song for "fueling the male gaze," "marginalizing the idea of women loving women," and "[belittling and invalidating] the very pure feelings of an entire community."
Ora apologized on Monday for "hurting anyone," and revealed that she herself has had romantic relationships with both men and women, and that that is what the song was intended to be about. To her credit, and especially knowing what we know now, her lyrics in the song are relatively harmless: "I ain't one-sided, I'm open-minded/ I'm fifty-fifty and I'm never gonna hide it" appears to just actually be about exploring her sexual identity.
Cardi B also stated that she has had sexual experiences with women, and that when she first heard "Girls," she thought "it was a good song and [remembered her] experience."
Of course, both Ora's and Cardi's experiences are valid, and they have the right to make music about them, even if they aren't ready or have no plans to publicly identify as queer. Intimations of female queerness by artists with queer experiences are valuable, and can be seen as proof of women's sexual liberation. Despite the progress we've made as a society, sex continues to be seen as something "for men," so it still feels badass to hear a woman, regardless of sexual orientation, rap openly about her sexuality, whether it's Rita Ora, Cardi B, Young M.A., The Internet's Syd, or the aforementioned Minaj.
The problem, though, comes when these allusions to queerness are made in a facetious way. Just because "Girls" was partially made by two artists who have been with women doesn't mean that its lyrical content can't be harmful. The combination of Charli XCX's irreverent chorus of "Sometimes I just wanna kiss girls, girls, girls/ Red wine, I just wanna kiss girls, girls, girls," Cardi B chalking up women kissing other women to "girls just wanna have fun," and Bebe Rexha's line, "I put the lion in the cage and then I laid with her"—which, as far as we know is coming from a straight woman—downplays the lived experiences of other queer women. While some of the song's lyrics are more harmful than others, all of these artists' involvement with the song feels, at the very least, like a co-sign of its harmfulness.
These sort of cheeky sentiments are nothing new; we've heard them in songs like Katy Perry's "I Kissed A Girl," Little Big Town's "Girl Crush," and of course t.A.T.u.'s 2002 hit "All The Things She Said," which was accompanied by a music video that falsely portrayed the female duo as being romantically involved. Still, though, they are all prime examples of the kind of belittling and invalidation that Kiyoko was referring to, both of which we should be moving away from.
This harmfulness manifests itself in other ways, too. Open discussion of female sexual identity and orientation continues to be problematic when it's used to convey power and bravado; just because it's a woman objectifying a woman doesn't make it okay. Young M.A.'s "OOOUUU" isn't exactly a feminist anthem, with lyrics like, "I don't open doors for a whore/ I just want the neck, nothin' more." Cardi B's brag on "Girls" about "[stealing] your bitch" stings, as does Nicki Minaj's, "I am not gay, but let's be precise/ 'Cause if she pretty then watch it/ 'Cause I'ma be fuckin' your wife" on "Danny Glover (Remix)."
This sort of swaggering is seemingly done to create a level playing field between female artists and their male counterparts. While the playing field should of course be level across all gender identities, objectification of women—and particularly queer women, who are often seen solely through a sexual lens, without any nuance—is the wrong means to that end, as it further perpetuates the idea of women as objects to be collected by those who desire them. And isn't that the exact opposite of sexual liberation?
All of this objectification, of straight women and queer women alike, predates hip-hop, and certainly predates music; it has been the nature of our society since the dawn of time to treat the experiences of anyone who is not a cis, straight, white man less seriously, and with less concern for the consequences of that treatment. More than that, the possibility always exists that there is more to the story, as has been the case with Rita Ora and Cardi B. Because that possibility exists, we should continue to push for more authentic representation and inclusivity, that does not fetishize or trivialize; there's a fine line between exploration and exploitation, one that is often crossed at the expense of real, lived experiences.