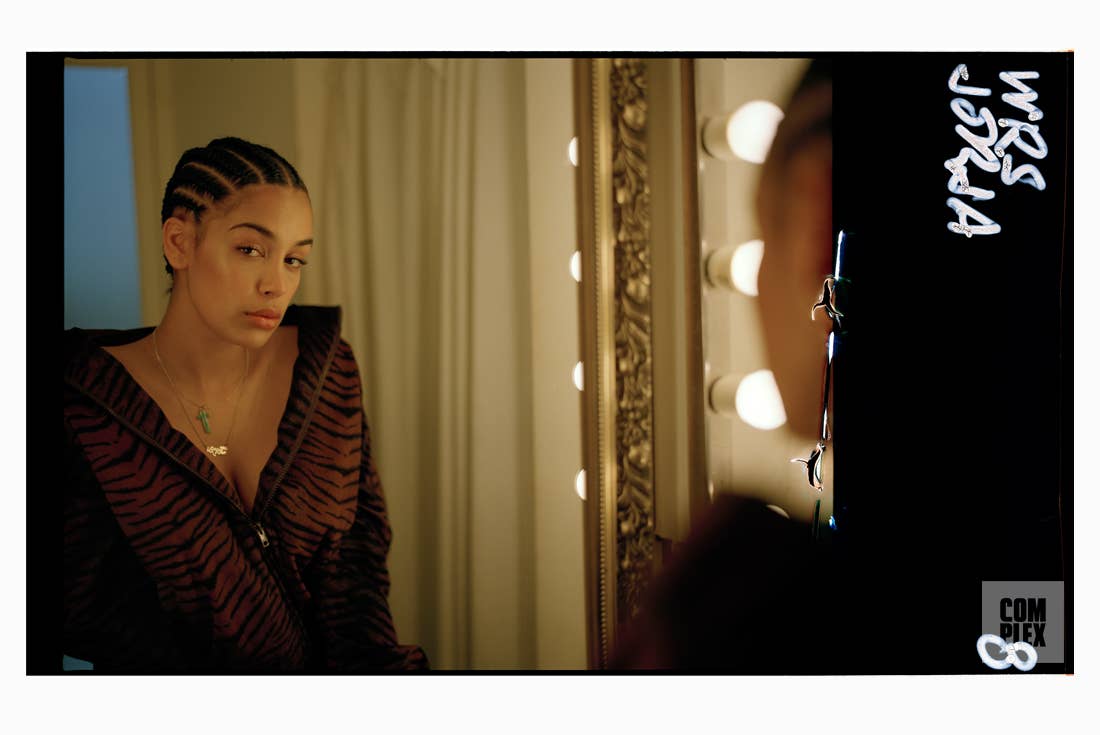 The first time I met Jorja Smith, she was visibly agitated.
Shortly after being introduced to the UK singer at the Made In America Festival in Philly last September, I was offered the opportunity to shoot her in the artist area and I eagerly accepted.
My first impression upon meeting the then-20-year-old, was that she was cool and friendly but visibly peeved, revealing that she was frustrated with her set earlier that day. As we strolled across what was left of the mutilated muddy lawn—a victim to foot traffic and the rain that seems to haunt every music festival—the perfectionist opened up about the moments from her performance that she found unsatisfactory, visibly cringing at the mere mention of each uncomfortable memory.
I reassured her that her set sounded good from the photo pit where I was perched and that the crowd was into it. Unconvinced, she sucked her teeth before thanking me and prepared herself to pose for the photos.
As my shutter snapped, she asked me questions about myself, my cameras, and the festival. But during the discussion, she seemed to be lost in thought, privately recounting the details of the performance in her head. This snapshot of vulnerability meets accessibility, paired with her genuine curiosity about others, is exactly what makes Smith one of the most intriguing artists out right now. But in that moment, she was just like any young woman—trying to figure out how to move past the things she can't control and tweak the things she can.
"I'm feeling happy about myself. I'm figuring more stuff out. I overthink everything and one thing I find difficult is to actually be in the moment."
Eight months later, Smith and I are set to meet again in Complex's New York office, just two weeks ahead of the release of her heavily anticipated debut album Lost & Found. She's fresh off of a three-week North American tour, which included two weekend performances at Coachella. She's been on a press run the entire day and this is one of her final stops.
She arrives, dripped from head to toe in black, skin glowing, with her braids neat and edges proper. Smith has a subdued vibrance, like that strange, final burst of energy you find when you've been working all day and think you're finished, but your body says not quite yet.
I'm caught off guard when she remembers our previous meeting in detail, including the location and specific conversation points—a rarity for most people, let alone an artist who lives in a perpetual whirlwind of names, faces, and events.
Recalling the frustrations she expressed in our last encounter, I ask how her shows since then have went. There's not an ounce of discontent this time around. She erupts, "The shows have just been sick! Every show is sick! Everything's just gone really good."
When I remind her of her visible vexation during our previous encounter, she yell-laughs, "That was shit!" Smith explains that she's not good at being fake, so her emotions are easy to discern. There's more to her joy than a string of successful tour dates. "I'm feeling happy about myself," she says. "I'm figuring more stuff out. I overthink everything and one thing I find difficult is to actually be in the moment."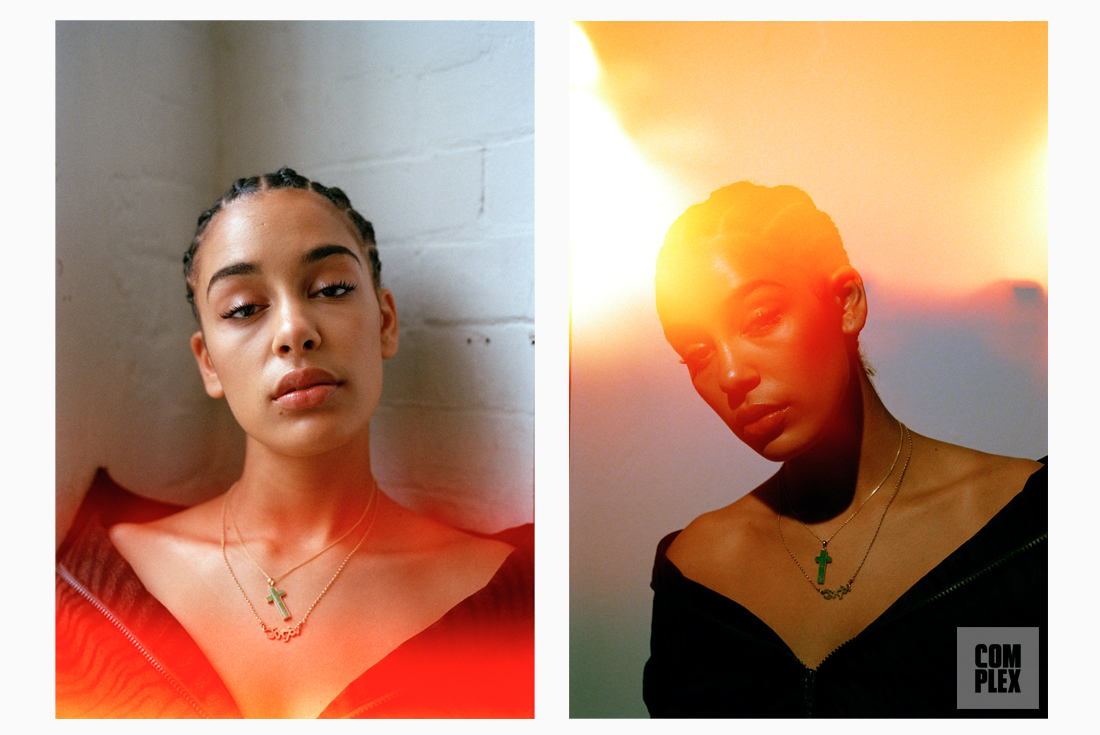 Smith's trouble focusing extends beyond fixating on a bad moments, like an unsatisfactory performance. During our interview, her gaze often darts around and she frequently inquires about random shit littered about the Complex office space. She explains that this tendency dates back to her time in high school, when she found it near-impossible to finish reading anything all the way to the end, because her desire for new information prevented her from fully digesting whatever she'd just consumed, before gathering more.  
"My mom said I've had too much going on in my head since I was little," she tells me. But her overactive mind has served as a blessing for the young songstress. Even as a young child, Smith absorbed even the smallest details around her, using her environment as paint for her mind's canvas. "When we used to walk to school, I used to read off the walls, graffiti and stuff, everything. I used to write stories but I'd never finish them. I wrote poems..." She pauses briefly before declaring the one area where her creativity always reaches its apex, "It's songs that I finish."
"I just want to help somehow, whether it's help people be happier or make you sad because I've made you think about something that you've done which wasn't good."
Smith has been singing since the age of 8 and began writing her own songs just three years later.
Born and raised in the small town of Walsall, England, a two-hour train ride from London, Smith's ability to channel her curiosity about her surroundings into thoughtful lyrics came at a young age. "I wrote a song called 'Life Is a Path Worth Taking.' And the song said, 'Life is a path worth taking/You need to find the right steps to make it clear and faithful to you.' I was 11. I [had] just started secondary school." Smith shrugs and laughs at the notion of her younger self toying around with mature ideas.
This same wise-beyond-her-years perspective is present in her music today. "Teenage Fantasy," from the new album, is a sauntering lover's lullaby, written when she was just 16 but unreleased until summer 2017. The track finds Smith dealing with desire, love, and the impulses of youth. Sung with conviction, lyrics like, "I need to grow and find myself before I let somebody love me/Because at the moment I don't know me" display a self-awareness that is stunning for a songwriter so young. It's not until the song's final seconds where the music drops out that you can hear Jorja's youthful demeanor peak through.
It was around the time Smith was penning "Teenage Fantasy" that she met her manager, who invited the singer/songwriter to studio sessions in London after hearing some of her songs. Looking back, Smith, now 21, pegs this period as the start of her professional musical journey, one that led to this album—a project that hosts 12 songs she penned between the ages of 16 and 20.
"I used to go to London by myself when I was 16," she says. "I think I got it from my mom. My mom was the type to just always just go off somewhere, wherever. She's a goer."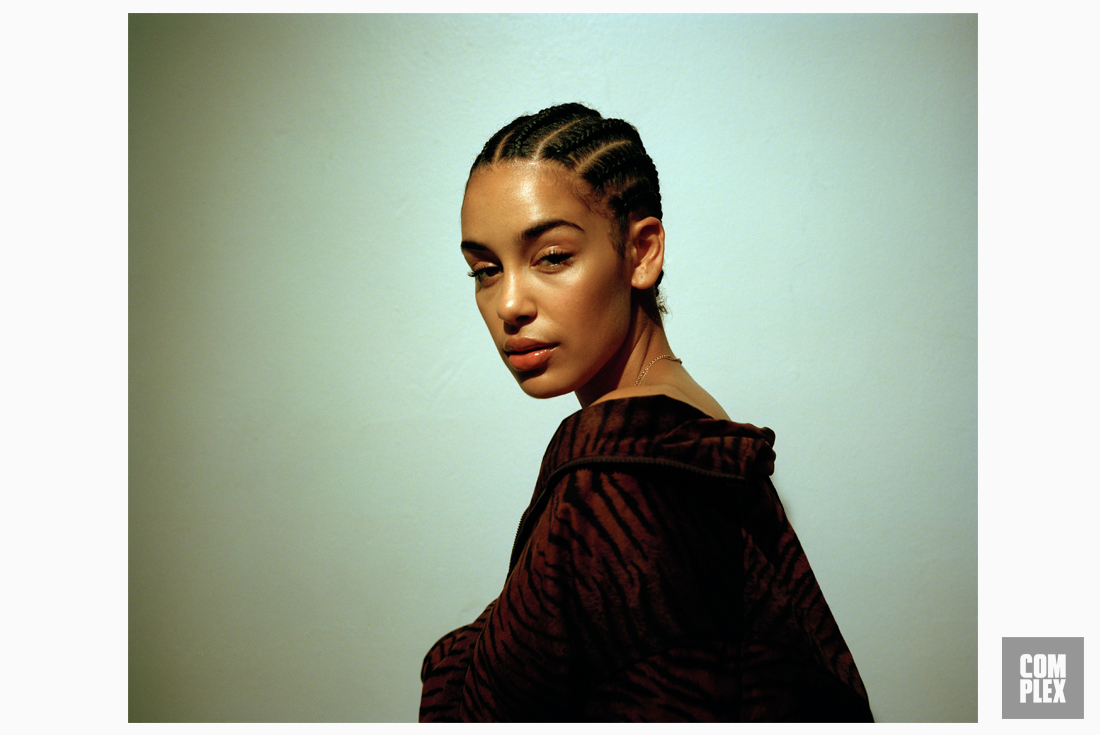 The first song Smith wrote during this period was "Lost & Found," the title track from her debut, which is out now. "We just started singing, 'Why do we all fall down, if our innocence is on the ground?/Why do we all fall down?/All aboard the lost and found.'"
Speaking specifically about the album's title, she shares, "I sometimes get lost but then I know what's right, you know?" Smith says it's a callback to her early days of traveling to studio sessions in London on the train. At the time she intuitively felt she was on the right path, even though she didn't know exactly what lay before her. "I'm this small girl. It was just this huge world out here. I think we're constantly lost and found, and people find you but you haven't found yourself. You can use a combination of both."
When it comes to Lost & Found the album, it's clear Smith prizes emotional truth above all. The project contains songs recorded at all different ages, many of them original recordings, so the listener can hear her voice changing over time. "I hate re-recording because if you're in how you felt, that's how you felt at the time. I can act out being sad in a song... I can do that, but, when you are really sad, you can't, you cannot." she says,  a hint of defiance in her tone.
Taken together, the songs are something Smith hopes convey her personal evolution. "I didn't re-record 'Where Did I Go' to be on the album," she continues. "I was 17 when I sang that and I sound a lot different [now]. My voice has matured. So some songs I sound younger on, which is quite cool."
"If it came down to it and there was a race war, to white people, I am black. That's how I was brought up, but America and England are different."
Jorja Smith, in music and in life, is someone who's always on a journey. On her debut album, she's fighting against her lifelong urge to lose focus, replacing it with an appreciation for the twists and turns her life has taken over the past four years, and what those situations have allowed her to figure out.
Sitting in front of her, she gives off a vibe that can only be described as unbothered. But unbothered doesn't mean unaware. There's a healthy part of the conversation where Jorja tackles the topic that every artist—especially female artists—have to address: her looks and how they are ultimately perceived by the masses.
"When I put my first song out, I didn't put out any pictures," she says. "I just wanted people to hear my music. From growing up, I do know what things are like. Like at school, everyone wants a light skin girlfriend—not me, no one wanted me. That trend that doesn't go away from when you're 16. It goes onto the bigger world."
Smith, who is biracial—born to a Jamaican father and an English mother—opens up about a conversation that she has seen surround her as her star has gotten bigger.
"There's this whole thing around colorism. I see, 'Jorja Smith has only got hype 'cause she's light skin and pretty' quite a lot. It's quite interesting. But I was brought up saying I'm black because my dad said to me, 'You're not white. You will never be white. You're black.' If it came down to it and there was a race war, to white people, I am black. That's how I was brought up, but America and England are different."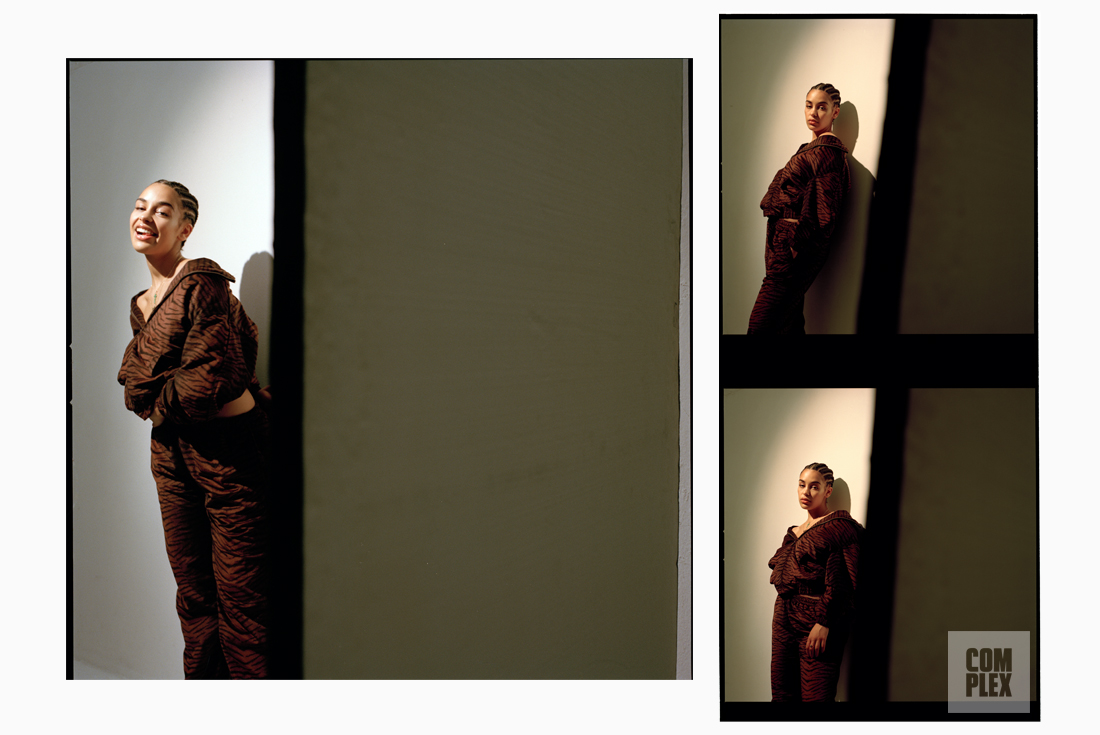 As she continues to gain real estate in the minds of different audiences, Smith's hard-won truths can get lost in the chaos of cultural exchange and idle chatter. I reference my own trip to London and the attention I garnered when I couldn't provide to a group of UK locals my family's origin beyond America. At the crossroads of race, ethnicity, and nationality, many of us who are the descendants of slaves default to terms like "Black" and "African-American." They're terms that don't register the same—or at all—beyond the borders of the United States, and are increasingly insufficient as the world and its inhabitants change.
"I will never know what it's like to be a Black American woman," Smith admits. "Never. But then I'm mixed raced. Mixed race is a race as well." She doesn't expand on this, but despite her not being American, and me not being a woman, we have that shared understanding of what the other means. Access to the unspoken code that comes with the term "black." I know what she means, and she knows I know what she means. We both know that we both know. That exchange made in silence is followed with her life's thesis: "This is why I think I'm just gonna do me and write songs."
To be clear, this is not an escape route by any means, but a lens into the ways in which Smith navigates through this world and how that world reflects back on her person. "Blue Lights"—the first single off the album—paints a somber, detailed image of the tumultuous relationship young people of color have with law enforcement. Through her art, Smith cuts to the core of an issue that faces many people of color around the globe.
Smith's approach to black art is twofold. Not only is she creating it but also actively participating in it, which is evident in her features on Black Panther: The Album and Drake'sMore Life, and placements on shows like Insecure and Dear White People.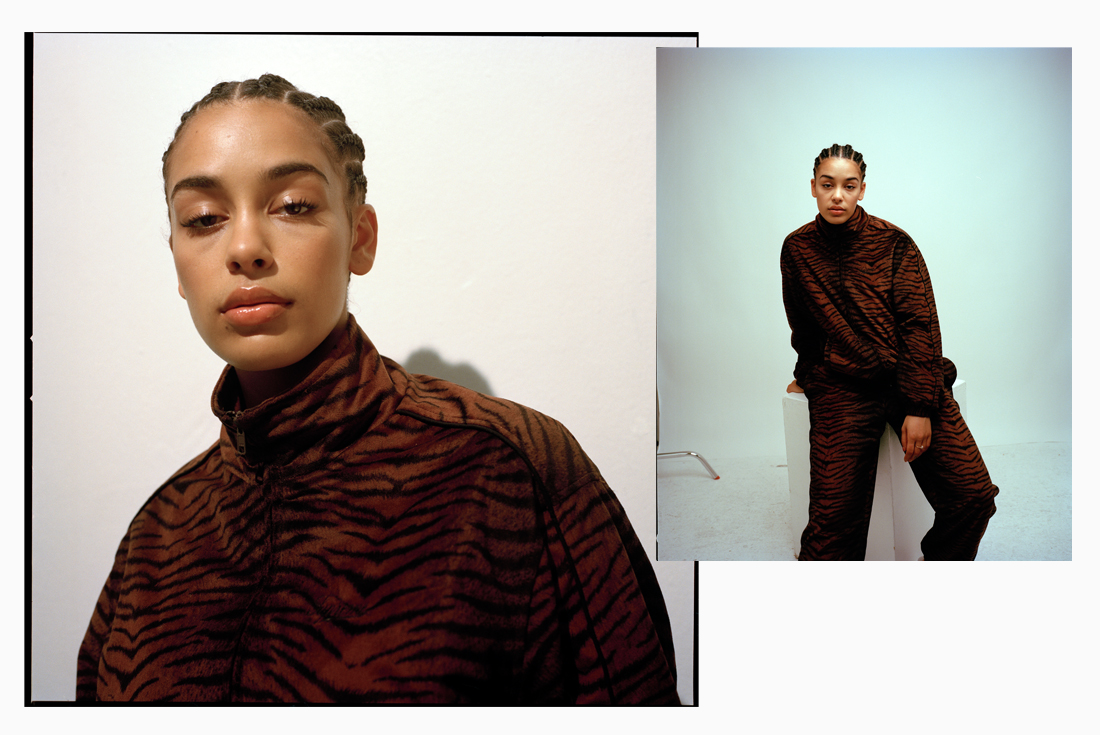 Sitting in the frigid office conference room, Jorja and I trade Google searches of black visual artists like Kerry James Marshall and Hank Willis Thomas, whose works we want to buy when we can afford it. We talk her favorite rap albums: Nas' Illmatic and Black on Both Sides by the iconic rapper Mos Def (now known as Yasiin Bey). "It's fucking amazing," Smith enthuses. "'Umi Says'—I want to do a cover of that." She expresses her desire to work with J.Cole. "I love what he's got to say. I like his tone." Even the aforementioned rappers she highlights helps to paint a more complete picture of who she is and what her intentions are.
We get sidetracked from our interview and start looking at footage of scenes from Moonlight juxtaposed against footage from Wong Kar-wai. Her publicist sees us Youtube'ing and motions to alert us that Jorja's time is running short. She has another stop to make, before heading back overseas to the UK. This sets the stage for my final question, I ask what she wants to do with this project, after all you only get one first album. "I just want to help somehow, whether it's help people be happier or make you sad because I've made you think about something that you've done which wasn't good. I just want people to think and open their mind."
I think back to our first encounter and Smith's frustration, as her mind replayed moments she could never change. That inability to grip the ungraspable, the lack of control is something we all deal with. Jorja Smith, like all of us, gets lost in this world at times. But we can't control the world, we can only navigate our way through it with the tools and information we have serving as our compass. Sitting with her, observing her joy and curiosity and comfort, it's apparent that she's found herself through her gifts to create music. Through that, she's hoping to help you find your way to.
Hair by Zateesha Barbour;  Makeup by Caroll Lopez Reid; Jewelry by Jolene Smith.