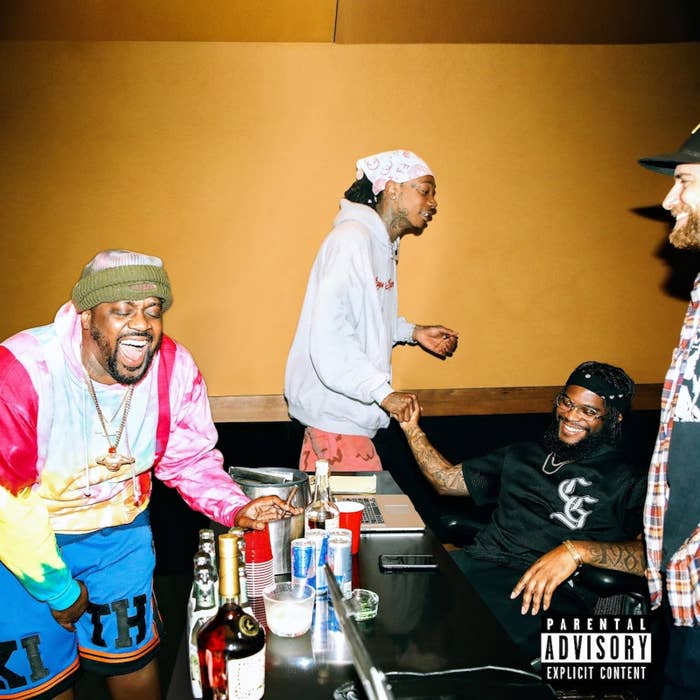 Fresh off dropping several singles, Wiz Khalifa, Big K.R.I.T., Smoke DZA, and Girl Talk return with the release of their new collaborative album Full Court Press.
Entirely produced by Gregg Gillis, the former mash-up artist known as Girl Talk, the 10-track project features the previously released singles "Put You On," "How the Story Goes," and "Ain't No Fun." Of the album's seven new songs, three are posse cuts featuring all four artists ("No Singles," "Revenge of the Cool," "Everyday"); the remaining four tracks are comprised of solo offerings from Wiz, Smoke DZA, and K.R.I.T., respectively, as well as a collaboration between Khalifa and DZA.
Girl Talk, who's currently on tour from through April 30, spoke about the chemistry between the foursome. 
"These guys all go back with each other over 10 years, so it was just a great energy in the room," he explained. "I wanted to have an environment where they could do what they do best; try out a bunch of different ideas and have fun with it. Wiz, K.R.I.T., and DZA all have very different styles. As a fan of each of them, I wanted to capture what it is that draws me to their music. It's like with my previous albums, I'm trying to take pieces of all my favorite elements and then re-contextualize it into something new."
Wiz called it "a dope experience" allowing the four to combine "all our sounds together and make a true timeless classic." Smoke DZA added, "Getting together with my brothers Wiz and Krit, and adding Girl Talk to the mix is a perfect combo of swag, raps, weed and lyrics that can't be duplicated."
Stream Full Court Press now on all major platforms. Wiz Khalifa also has shows booked from April 15 through May 14, and K.R.I.T. is touring extensively from April 21 till June 10.
The four artists also shared their "Ain't No Fun" video directed by Kee & Bawwse this week: