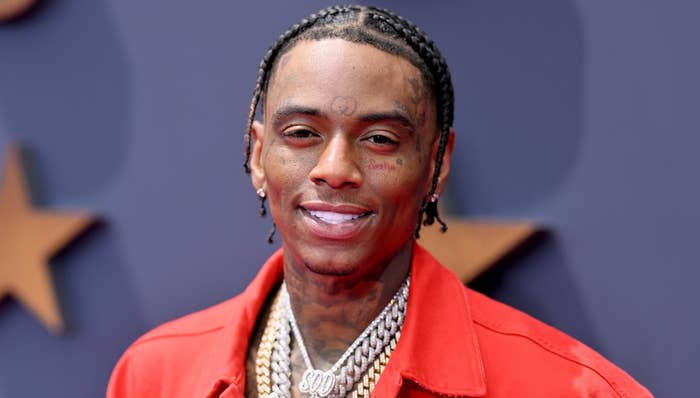 Soulja Boy has shed light on what it costs to collaborate with him.
The "Crank That" rapper hopped on Instagram Live to update his peers about his feature rate, while also sharing how much it costs to book Soulja Boy for a concert or club appearance.
"If you want a verse, it's gon' cost you a M," Soulja Boy said. "You want a show, it's gon' cost you $100k. You want an after party, it's gon' cost you 50 bands. We just turnt Texas up. This what it's gon' cost you. No cap. That's just what it's gon' cost you."
Though Soulja Boy likely isn't the first rapper to charge $1 million for a guest verse, you'd be hard pressed to find a rapper willing to go on the record and admit it.
As previously reported by Complex's Jessica Mckinney, a rapper's guest verse rate depends on their status in the rap game, though most A-list MCs claim to charge north of six figures.
Back in 2022, Lil Durk revealed he'd upped his feature price to $350,000. That same year, Lil Baby said he'd increased his asking price from $100,000 to $350,000. However, the Atlanta rapper is willing to grant an exception, as was the case when Lil Baby didn't charge Vince Staples a feature fee for his guest appearance on Ramona Park Broke My Heart's "East Point Prayer."
Meanwhile, some rappers have been known to gift guest spots for free. Jay-Z told Kevin Hart in a 2022 interview that he doesn't charge artists for his feature verses. Instead, he chooses his collaborations based on relationships.
Most recently, J. Cole shared that he refuses to charge artists to collaborate with them.
"Yo, bro, it's just a bar, bro," Cole told Lil Yachty on the latter's A Safe Place podcast. "Like, a lot of my bars be really on point but that's just a flex. I'm not gonna charge a n***a $2,000 a word. I don't even charge n***a for the verse, I'm doing this shit because I'm inspired to do it."
He continued, "I'm not charging n***as because, you know, I want to be on the song. I wouldn't do that."