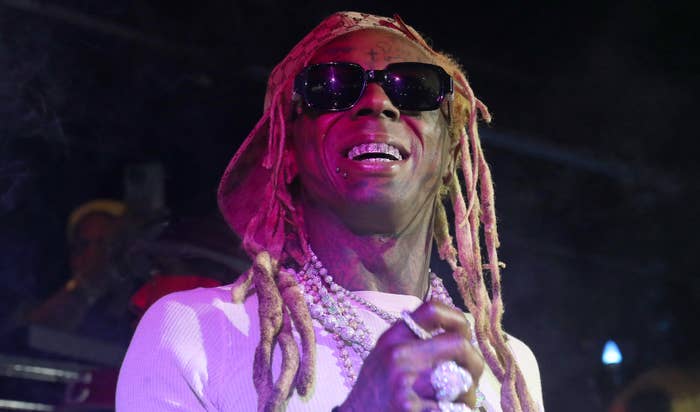 Lil Wayne took to the stage on Saturday night for the Young Money Reunion show at Drake's October World Weekend festival, where he teased his forthcoming album Tha Carter VI.
Wayne ended his performance by hyping the follow-up to his 2018 album Tha Carter V. "I'm working on Carter VI, coming soon!" he told the crowd, before a giant sign reading "Tha Carter VI" appeared on a screen onstage. 
It isn't the first time Wayne has teased Carter VI. The Young Money boss spoke about the LP in an interview with Variety in July 2020, saying, "My favorite Carter album is the next one." A month later, while chatting with ESPN's Michael Eaves, Wayne said that the next Carter album was "coming soon."
The latest chapter of Tha Carter franchise dropped in 2018, with the very highly-anticipated Tha Carter V. He followed its release with his thirteenth studio album Funeral, which arrived at the top of 2020.
Alongside Wayne and Drake, Nicki Minaj was in attendance for the Young Money Reunion Saturday night. The event was initially set to take place Aug. 1, on what would've been the third and final day of October World Weekend; but just hours before the concert's kickoff, Drake announced he had test positive for COVID-19 and, therefore, had to reschedule the gig.
"I am truly devastated to say that I tested positive for Covid and the Young Money Reunion show scheduled for tonight is being rescheduled to the SOONEST date possible," he wrote on Instagram."I will keep the city posted and share the new date whenever we have it locked. Until then I hope everyone stays safe and healthy."