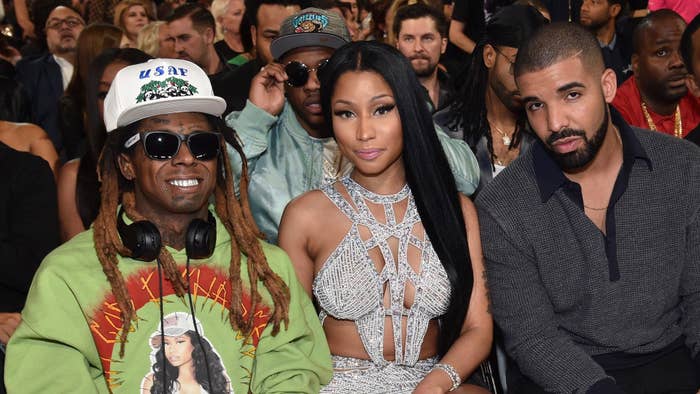 Drake kept his word to Toronto.
On Saturday night, the OVO boss presented the much-anticipated Young Money Reunion show with Lil Wayne and Nicki Minaj. Photos and videos of the event have started to pour in on social media, showing the megastars at the Budweiser Stage performing for a sold-out crowd.
The event was initially set to take place Aug. 1, on what would've been the third and final day of October World Weekend; but just hours before the concert's kickoff, Drake announced he had test positive for COVID-19 and, therefore, had to reschedule the gig.
"I am truly devastated to say that I tested positive for Covid and the Young Money Reunion show scheduled for tonight is being rescheduled to the SOONEST date possible," he wrote on Instagram this week. "I will keep the city posted and share the new date whenever we have it locked. Until then I hope everyone stays safe and healthy."
Fans were understandably disappointed; however, they didn't have to wait too long for good news. Just days after announcing his COVID diagnosis, Drizzy returned to Instagram to confirm he had tested negative for the virus and would present the Young Money Reunion show at the end of the week.
"Negative test…positive outcome…," he wrote. "This was the only date available until the fall and because the family is so solid everybody is flying back in to make it happen for you all…SEE YOU SATURDAY…young moulaaa."
October World Weekend began last week with the "All Canadian North Stars," featuring artists like Nelly Furtado, Keshia Chanté, and Jully Black. The second day was headlined by Chris Brown and Lil Baby.
A day before the reunion, Drake posted a series of throwback photos featuring Young Money's "Big Three."
"MOOOOOOOOD 💰" he captioned the carousel.