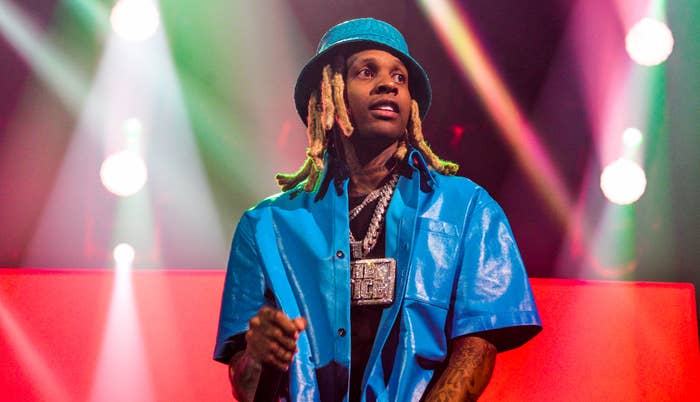 As fans await the arrival of his forthcoming album The Voice 2.0, Lil Durk sat down with XXL for a wide-ranging interview in which the Chicago rapper opened up about going to therapy, his relationship with India Royale, and being inspired by Jay-Z's business empire.
While discussing how he copes with stress and coping with the tragic loss of his brother and King von, Durk revealed he has started going to therapy. 
"I got a therapist so I cope different," he shared. "You know, it don't just gotta be I'm finna go take all these drugs, or I'm finna go get my feelings like this. I got my family, I got my girl, I got a therapist, I got my kids and I got the studio."
Durk says his desire to begin therapy stemmed from a struggle to deal with and process his emotions.
"You gotta be careful how you tell people, what you tell people, because they can use it against you. They can find out your weaknesses," he explained. "By me doing that, for all these years, I got used to it. So now, when I talk to the therapist, then it start getting more emotional. But like somebody on the street, you'll never even see me shed a tear."
Elsewhere in his discussion with XXL, Durkio shed light on his relationship with longtime girlfriend India, while shutting down rumors that he got another woman pregnant. "She always gonna be my girl," he said. "We always gonna be together. That's who I'm dying about right there."
Durk continued, "What me and her go through in the house, we go through in the house. Everything that you see on the internet about me and her is fake. Like the having a baby on her, all that shit, that's not nowhere near reason that we be having our little problem."
While discussing his goals and which rapper he views as a measuring stick for future success, Durk named Jay-Z, before sharing a story about an interaction he and Hov had that left Lil Durk at a loss for words.
"Shit, look what he did," Durk said about Jay-Z. "Résumé speak for itself. He used to be in this position. He used to be the underdog. The streets used to take him under. And he bossed up, nah'm sayin'?"
During a run-in at a party thrown by Michael Rubin in 2022, Durk recalls Jay telling him that he looks to the Chicago rapper for motivation.

"I seen him at [businessman] Michael Rubin's party [in 2022] and he like, 'Man, you motivate me,'" Durk shared. "Man, fuck me up. I forgot my reply to him, 'cause it was on a walk-by. The reply ain't make no damn sense 'cause it shocked me. I'm like, What the fuck? Damn, that's hard."

Durk added, "It's just motivation. Everything happens for a reason. It was for a reason I was standing right there when he walked past at the time."