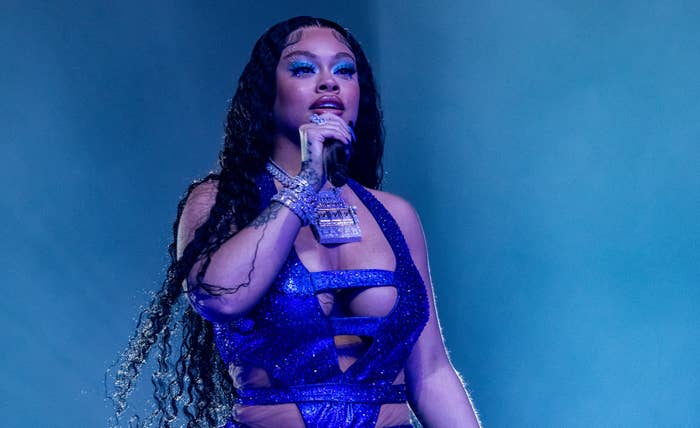 A few weeks ago, Omeretta the Great landed herself in hot water for casting doubt on artists claiming to be from Atlanta on her track "Sorry Not Sorry."
ATL rapper Latto weighed in on the debate last week, maintaining that Omeretta's declaration is "not a big deal." The pair have since joined forces for the song's remix, which sees Latto name drop several local legends.
"So Migos is not Atlanta?/21 is not Atlanta?/Ciara is not Atlanta?/Ludacris is not Atlanta?/Man, Clayco made Atlanta/Decatur made Atlanta/Rap game tried to play Atlanta/OutKast came and saved Atlanta," Latto spits.
Shortly after dropping the remix, Latto took to Twitter to remind the Atlanta hip-hop community that her verse is merely showing support for the legendary acts who may not be from Atlanta proper.
"Y'all I'm not dissing the people I named on the verse!!!" she wrote. "I'm saying so Migos is not Atlanta?? 21, Ciara, Ludacris etc because they technically not from the city but helped make it is what it is!"
Latto added, "That 'ishnot Alanna' TikTok that Shaderoom posted I had just sent the verse back to Retta & we was watching y'all eat it up in the comments 😂😭 check the background I was literally at the studio lol."
As for her thoughts on the remix, Omeretta praised her new collaborator's scene-stealing bars.
"When Latto sent the verse back I couldn't even text no mo I had to call like girl wtf why u do that track like that," she wrote on Twitter.
On the original track, although Omeretta the Great did not name drop any rappers, she did reference many parts of Atlanta's metropolitan area that that some of the most notable artists of all time, including Ludacris and OutKast, call home.
"College Park is not Atlanta/Lithonia is not Atlanta/Clayco is not Atlanta/Decatur is not Atlanta/Gwinnett is not Atlanta/Roswell is not Atlanta/Forest park is not Atlanta/Lilburn is not Atlanta," Omeretta declared on the song.
A few days later, T.I. responded to Omeretta's claims in a since-deleted post, writing, "Respectfully…Only fools dispute facts. #ToWhomItMayConcern." In a subsequent post on his Instagram Stories, as seen in the fifth slide below, the Bankhead rapper admitted the controversial track did in fact spark a conversation.
"Omeretta, you got 'em talking," T.I. said.