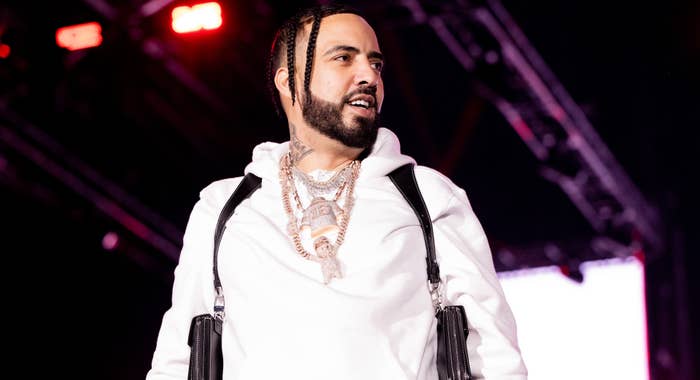 YK Osiris can add French Montana to the growing list of rappers to whom he owes money.
In a video posted to his Instagram Stories early Monday, French jokingly pulled up on YK while at the club, demanding he pay up $5,000.
"I found my n***a," French said. "He owe me some money. He don't wanna pay me, but I'm gonna get my money."
Osiris then embraced French, laughing and saying he'll get his cash. "I'ma give the money back," YK said. "How much I owe you?" 
"You owe me $5,000 from bowling, man, you never paid me," French replied. 
"I'll give you that back, give me two more weeks," Osiris responded with a grin. 
YK wound up taking to his own IG Stories to say, "2022 n***as not using my name for clout no more." In follow-up remarks to the Shade Room, he said the idea that he owes French anything is "not true at all."
"We were just bowling having fun, nothing serious," Osiris said. "The game wasn't about any money, but French did win."
French isn't the first rapper who's claimed YK owes them money. Just last month, Drake confronted Osiris and gave him an ultimatum: he could either pay him back the $60,000 he owed or perform his song "Worth It" for Drizzy. Osiris, of course, chose the latter, resulting in a hilarious video that he posted to his Instagram.
"@champagnepapi said if I sing, my 60k I owe him is clear lol welp‼️‼️ I had to clear that debt," Osiris wrote in the caption. "This what happens when u owe 60,000."
In another video he added, "I really ain't wanna give you that $60,000. I owe $60,000? I didn't want to give you that 60, like you don't need 60. That's 1 car note."
YK Osiris has had some bad luck lately, with his car getting broken into into as a vandal took off with what he estimated was $5,000 worth of clothes. A week prior, he took to Instagram to announce he'd lost a diamond earring he dropped $350,000 on. He offered a $60K reward for its return.