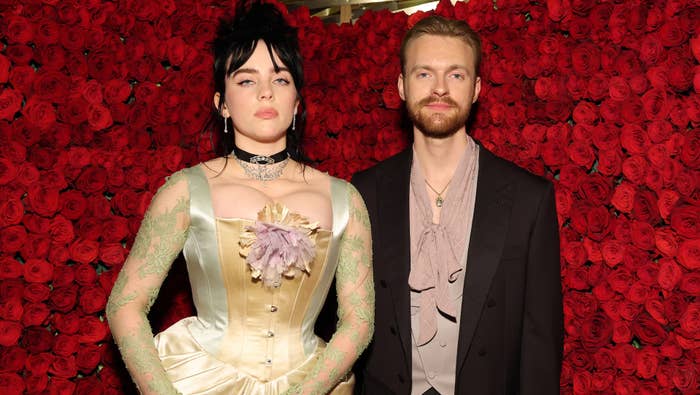 Finneas has no issue with the 10-year age gap between his sister, Billie Eilish, and her new boyfriend Jesse Rutherford.
On Monday, the singer-songwriter hopped on TikTok to defend Eilish and Rutherford's relationship. A TikTok troll made a video in response to one of Finneas' recent posts, poking fun at the age gap. "Well, your sister's dating a 31-year-old man and your music is shitty," the person said in the video.
Finneas jumped in the comments section to express his support for his sister's relationship with Rutherford. "I want my sister to be happy and safe and she is a 21-year-old adult perfectly entitled to make her own life decisions," he wrote
This isn't the first time Finneas has discussed how he feels about Eilish dating an older man. Back in November, Finneas told E! News: "Listen, as long as she's happy, I'm happy."
Meanwhile, the couple responded to the backlash with their Halloween costumes in October. Eilish dressed up as a baby, complete with a bonnet and diaper, while Rutherford donned a bald cap with grey hair. 
According to TMZ, Rutherford has known Eilish since she was 15 or 16 years old. A source told Hollywood Life at the time that her brother, who has also known Rutherford for quite some time, approves of their relationship. 
"Jesse gets along flawlessly with [Billie's] brother Finneas, who is so important to her," the insider said. "Finneas approves of this, as he really loves seeing his sister so happy and giddy. Billie has gone through such amazing changes and growth in the past few years, and she is ready to be with a man who is on her same level. She says that Jesse is the perfect guy for her."