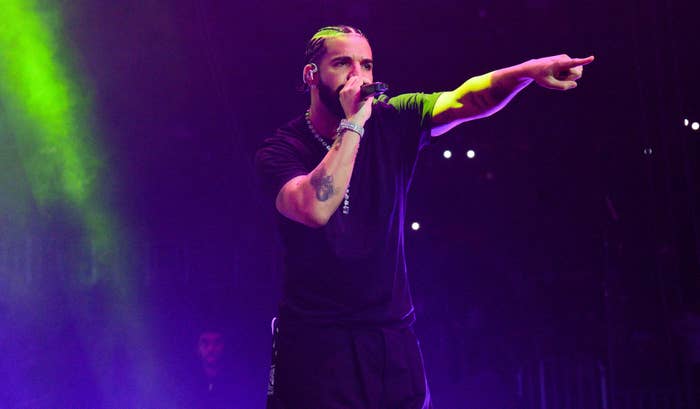 During the latest stop of his It's All a Blur Tour in Austin, Drake roasted a security guard for not reacting in a swift enough manner after a fan rushed the Moody Center stage Monday night.
As seen in the below clip, Drizzy was addressing the crowd when a fan walked right up to him in an effort to exchange pleasantries with the 6 God. Lightly shoving him away and then accepting a handshake, Drake wondered aloud whether the arena was providing security for his show.
"Y'all not doing security out here? You not doing security?" Drake asked while walking the fan over to the edge of the stage, where a security guard finally grabbed hold of the unruly participant.
"Boy, you slow as fuck," Drake added.
Earlier this week, Drake announced plans to drop the first single from his forthcoming album For All the Dogs, which is scheduled to arrive Sept. 22.
"I'm even going to say something tonight in Austin, Texas I haven't said yet," Drake told the crowd on Monday. "I know y'all excited to hear the album. I know it's, like two weeks out. I'mma drop a song for y'all this week. Yeah, yeah. What a time, what a time. I appreciate y'all. Deeply, by the way, I do. It's a lot of love in Texas."
Over the next month, Drake's It's All a Blur Tour is scheduled to make stops in Dallas (Sept. 14-15), Houston (Sept. 17-18), Atlanta (Sept. 25-26), Miami (Sept. 28-29), and Nashville (Oct. 1-2), and wrapping in Columbus, Ohio on Oct. 9 following back-to-back nights in his hometown of Toronto.