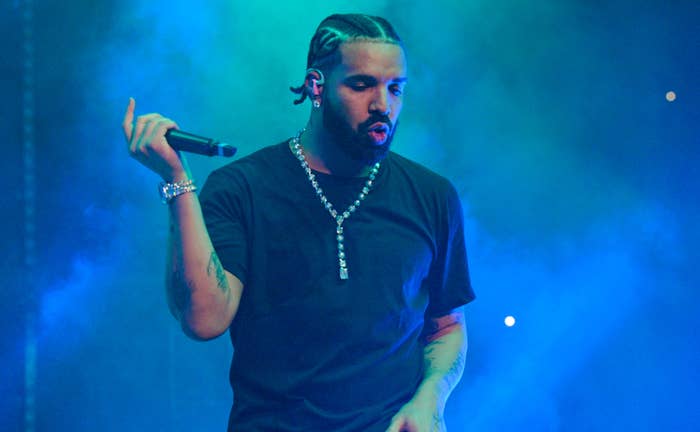 Following two postponements, Drake performed at Harlem's iconic Apollo Theater on Saturday night for the first of a pair of concerts there this weekend. 
The intimate concert, presented by SiriusXM in tandem with Drizzy's radio show Sound 42, saw the Toronto rapper run through a set of numerous classic B-sides, including Thank Me Later's "Karaoke," Take Care's "Over My Dead Body," Nothing Was the Same's "Wu-Tang Forever," If You're Reading This It's Too Late's "Jungle," Views' "Feel No Ways," and Scorpion's "Jaded," among others.
The setlist also featured some of Drake's biggest hits ("Started From the Bottom," "One Dance," "God's Plan"), as well as a handful of tracks off his and 21 Savage's 2022 collaborative effort Her Loss ("Rich Flex," "Privileged Rappers," "Spin Bout You").
Near the end of the set, Drake acknowledged the run he's having in his career and thanked the crowd for being there throughout the entire process, before teasing a forthcoming project. "I hope I can strike up more emotions for you," he said. "Maybe this year. I might get bored and make another one. Who knows."
Scroll down to see what happened at Drake's first concert at Harlem's Apollo Theater.
Drake opened his set by taking the stage backed by a recreation of his childhood bedroom. He then kicked things off by performing songs from his early days, such as Take Care cuts "Marvin's Room" and "Practice," as well as his 2009 Timbaland collaborative single "Say Something."
The Apollo was flooded with celebrities on Saturday, including Brooklyn Nets star Kevin Durant and NFL free agent Odell Beckham Jr., both of which made appearances in the music video for Drake's 2020 hit single "Laugh Now Cry Later."
Near the end of the show, Drake brought out Harlem's own Dipset, as Cam'ron, Juelz Santana, Jim Jones, and Freekey Zekey performed classics like "I Really Mean It," "Dipset Anthem" and "We Fly High (Ballin')."
Drake wrapped the night by bringing 21 Savage onstage, as the pair performed a few songs from their joint project Her Loss ("Rich Flex," "Privileged Rappers," "Spin Bout You"), as well as recent collaborative singles like Certified Lover Boy's "Knife Talk" and Honestly, Nevermind's "Jimmy Cooks."
During his set, Drake teased the imminent release of another new project this year.
"I've thought about a bunch of things in life, but at this moment in time none of those things are stopping making music for you, so I'll be here for you for a little bit at least," he told the crowd. "And I hope I can strike up more emotions for you, maybe this year. I might get bored and make another one, who knows!"