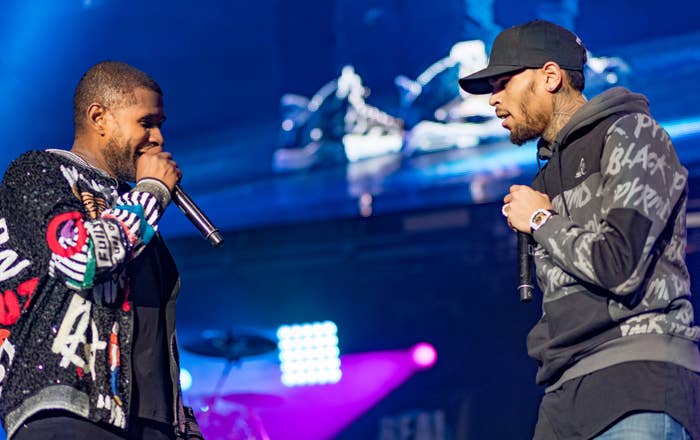 Less than 24 hours after the two were involved in a physical confrontation at Chris Brown's 34th birthday party, Breezy and Usher both performed at the Lovers & Friends music festival on Saturday night. 
TMZ reports Brown performed before Usher at the second annual Lovers & Friends Festival. Hours before he took the stage, Usher took to social media to post videos in which he doesn't appear to have suffered any injuries, as many witnesses of the fight previously noted that the latter suffered a bloody nose. 
TMZ noted that the fight between Brown and Usher began because the former was upset about a scrapped AMAs performance in which Breezy was scheduled to perform a tribute to Michael Jackson.
According to a report by Hollywood Unlocked, the fracas took place on Friday during Brown's birthday bash at Skate Rock City in Las Vegas. A source told the outlet that things took a turn when a visibly intoxicated Brown acted in a "disrespectful" manner toward Teyana Taylor.
Usher, among others, apparently intervened in an effort to calm Brown down. Instead, Chris called the Confessions artist a "coward," before the argument escalated outside the venue, where Breezy and his security team reportedly jumped Usher. Witnesses claim the beatdown resulted in Usher receiving a "bloodied nose."
Neither Usher, Brown, or Taylor have confirmed the story.