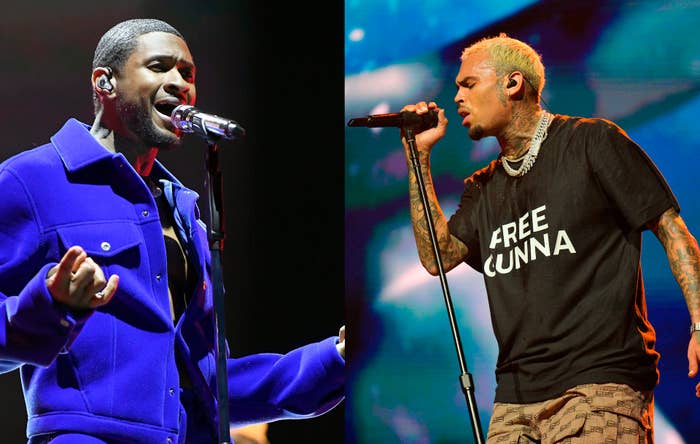 UPDATED May 6, 8:32 p.m. ET: Earlier today, Usher posted on Instagram Stories a video of himself backstage at Lovers & Friends Festival with no visible injuries. He is expected to perform tonight.
See original story below.
Chris Brown's 34th birthday party allegedly ended with a physical altercation between Breezy and Usher.
According to a report by Hollywood Unlocked, the fight took place on Friday during Chris Brown's birthday bash at Skate Rock City in Las Vegas. A source told the outlet that things took a turn when a visibly intoxicated Brown acted in a "disrespectful" manner toward Teyana Taylor.
Usher, among others, apparently intervened in an effort to calm Brown down. Instead, Chris called the Confessions artist a "coward," before the argument escalated outside the venue, where Breezy and his security team reportedly jumped Usher. Witnesses claim the beatdown resulted in Usher receiving a "bloodied nose."
Neither Usher, Brown, or Taylor have confirmed the story. 
The news arrives hours after footage of the party circulated on social media, with several videos showing Usher and Brown enjoying one another's company alongside other artists such as Mario and Bow Wow.
During a Drink Champs interview last summer, Chris Brown expressed his desire to face off against Usher in a potential Verzuz battle.
"I would want to celebrate him and his life just as much as celebrating my stuff. … I can't act like he ain't a pioneer, as well," Brown said at the time.
Usher downplayed the hypothetical battle in a subsequent interview with E!'s Daily Pop show.
"There was a flyer that was put together. It's not official, no, we're not doing that," he explained. "But I can appreciate what I see. Nah, there's no Verzuz. I don't think y'all ready for nothing like that. You might be ready for something like that on stage, maybe in the future. Stay tuned."