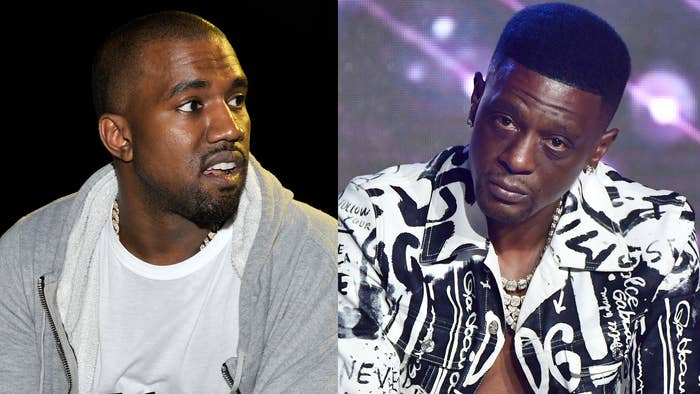 Kanye West is facing backlash after wearing a t-shirt with the phrase "White Lives Matter" during his YZY SZN 9 presentation that took place in Paris on Monday.
Boosie Badazz jumped on Twitter this afternoon to apparently call out Ye for rocking the controversial shirt, which features the message on the back and stylized depictions of Pope John Paul II on the front.
"@kanyewest After all we been through as a race you put this disrespectful shit on!!" Boosie wrote in all caps. "U gives no fucks about how Blacks have died n suffered to the hands of the white man. N u say Bush don't like Black people..really 'n***a.'"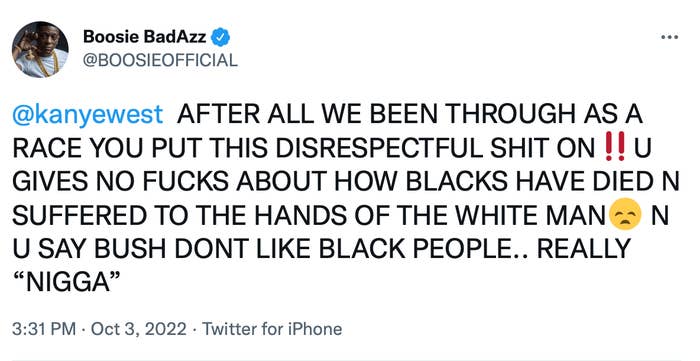 Before kicking off the YZY SZN 9 fashion show, Kanye was joined by conservative pundit Candace Owens, who also wore a "White Lives Matter" shirt. Ye delivered a speech in which he touched on various topics, but did not acknowledge the controversial t-shirt.
"I am Ye and everyone here knows that I am the leader," he said. "You can't manage me. This is an unmanageable situation."
Jaden Smith has also weighed in on the controversy. The MSFTSrep founder, who's currently attending Paris Fashion Week, denounced Ye's decision in a series of tweets. 
"I can't stand behind what Kanye's saying, he does not have the full support of the youth," Jaden, 24, wrote in a since-deleted tweet. He followed up the statement by writing, ""Black Lives Matter" and "I Don't Care Who's It Is If I Don't Feel The Message I'm Out."

Jaden has run in the same circles as Kanye for years, particularly through his close friendships with West's former sisters-in-law Kendall and Kylie Jenner. In fact, Smith was present at Ye and Kim Kardashian's 2014 wedding, which he attended in an all-white Batman costume. Back in 2019, it was announced that Jaden would play a young Kanye in a Showtime series titled Omniverse. The project has yet to be released.
Meanwhile, Boosie continued to rip Kanye on Twitter. 
"DO US A FAVOR N BLEACH YOUR SKIN ALL WHITE," he tweeted Tuesday before posting a doctored image of Kanye with white skin.