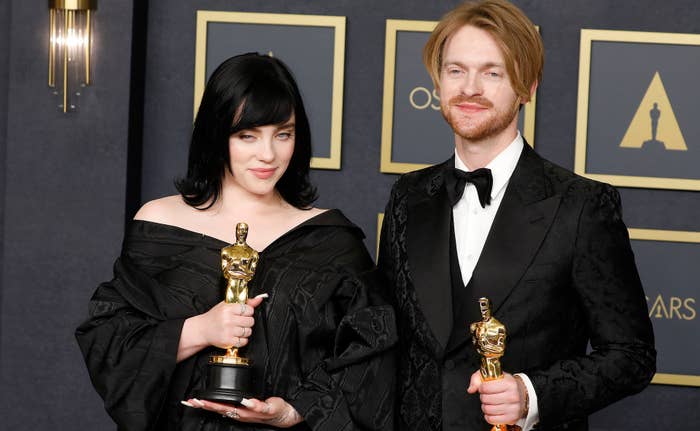 UPDATED 1/17, 10:30 p.m. ET: Billie Eilish has filed for a temporary restraining order against the alleged stalker who broke into her childhood home earlier this month.
TMZ reports Billie's father says Christopher Anderson, 39, has broken into the family's house five times since December. Each incident resulted in a 911 call from the Eilish family, who also have filed police reports on several occasions.
The pop star is requesting protecting for not only herself but also her parents and brother Finneas, as the break-ins have caused "substantial anxiety, fear, and emotional distress."
See original story below.
A man was arrested after attempting to break into Billie Eilish and Finneas' childhood home on Thursday night.
KABC reports LAPD officers responded to a call from Los Angeles' Highland Park neighborhood around 9:15 p.m. on Thursday. The home belongs to Maggie Baird and Patrick O'Connell, the parents of Billie and Finneas.
Neighbors called the police after O'Connell's housekeeper received an alert on her phone about an unidentified man, who was wearing a hooded sweatshirt and dark clothing, who'd hopped the fence on the property. Video footage was also on the Citizens app.
"Well, my aunt actually came running to me telling me that Billie Eilish's house was getting burglarized and we quickly ran over here because we live down the street so we're pretty worried about what was happening," neighbor Jaslyn Portillo told KABC.
Police arrested the suspect a block away from the home. Authorities confirmed the house was not broken into, and nothing was taken from the property.
The name of the suspect was not immediately released. 
Although it's unclear if Eilish's parents still occupy the residence, the home is in fact where Billie and Finneas recorded a large majority of the former's debut album, When We All Fall Asleep, Where Do We Go?. Released in March 2019, the LP peaked at No. 1 on the Billboard 200 chart en route to earning Eilish three awards at the 2020 Grammys ceremony.