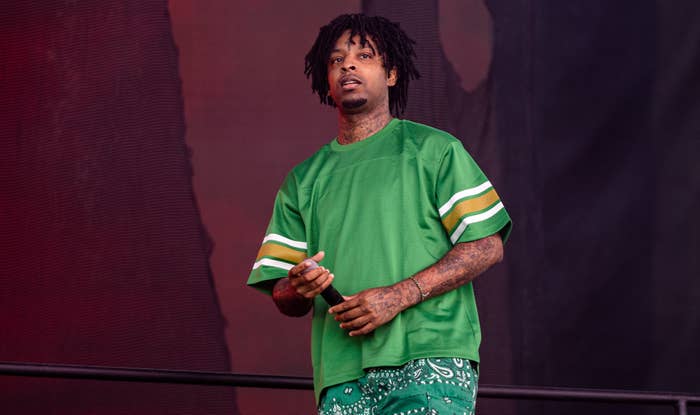 21 Savage continues to fight gun and drug possession charges related to his ICE arrest in 2019.
TMZ reports the rapper's legal team has filed a motion in an effort to prevent prosecutors from using evidence collected during the arrest, which took place in February 2019 when 21 Savage was detained by ICE in Atlanta for illegally living in the United States.
21 Savage and his lawyers claim police made an "unlawful" arrest, as they had no right to stop the rapper in the first place considering he wasn't doing anything wrong. Regarding the gun that was reportedly found in the vehicle Savage was in at the time of his arrest, the rapper says "there was no illegality for the weapon to be in the car."
The news arrives just a few months after TMZ delivered its latest update on the case, revealing that Savage allegedly tried to throw away an empty bottle of codeine during the arrest. Savage reportedly wasn't charged with possession of a controlled substance and possession of a firearm in DeKalb County until January 2022, meaning that those charges would need to be resolved first before his immigration case can formally begin. 
The Savage Mode rapper was initially arrested in 2019 after it was discovered that he had been living in the country illegally for several years on an expired visa. At the time, Savage's lawyer Charles H. Kuck said the arrest was "based upon incorrect information about prior criminal charges and [ICE is] now refusing to release him on bond of any amount, despite the fact that he has a pending U-Visa application (as the victim of crime) with USCIS, and that he has relief from removal available to him."