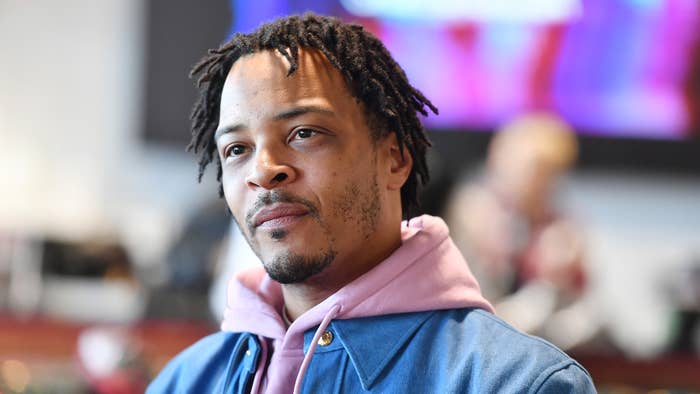 In a new video shared on his Instagram Stories, T.I. proclaimed that "nobody fucking with me" when it comes to music, not even Jay-Z or Kanye West.
The rapper/actor isn't as prolific as he once was, something he's admitted himself, but maintains that he's among the best when it comes to hip-hop. He previously indicated his next album, tentatively titled Kill the King, might be his last, and it sounds as though he's got something to prove with that record.
"Motherfuckers can't fuck with me in no way, shape, form, or fashion when it comes to doing no music, man," T.I. said in the clip. "I got a lot of other shit going on so I don't do music like on no consistent basis. ... I don't depend on that shit to feed me, you hear me? But when you're talking 'bout doing music, when you're talking 'bout cutting records, n***a, you talking 'bout putting shit out, talking 'bout making shit that's better than anything out there, man, ain't nobody fucking with me. Nobody fucking with me, bruh."
Tip conceded that some people might like other artists better, but that doesn't take away from his place in the canon. "That's cool, that's your preference. But n***a, when it comes to putting shit out, ain't nobody fucking with me, man. ... I don't give a fuck about your personal opinion, about how you feel about me, about what you think. When it comes to getting behind that motherfucking mic, n***a, putting some shit to music? Ain't nobody fucking with me, n***a. None of 'em." 
T.I. suggested some rappers don't want to work with him because "they know they can't fuck with me." He also claimed he's never been out-rapped on a song with another artist. "Jay and Nas, you need to bring them, bring them, n***a," he said. "That who you need. Jay, Nas, Wayne, Ye...n***a, they who you need. Bring them. Pusha-T. Yeah, all them. They who you need. Keep trying to goddamn throw my name in the circle, in the mix…ain't nobody fucking me, n***a."
His comments come months after he challenged 50 Cent to a Verzuz, only for the NYC rapper to turn down the request. "I don't think he'd be intimidated by how I pop my shit," T.I. explained during the premiere event for Black Family Mafia. "You got to get a gorilla for a gorilla. And regardless of how you see me, inside me there's a 900 pound gorilla … We really are similarly stacked. I don't have a diamond album [like 50], but he don't have five classic albums." So far, T.I. has yet to face off against anyone in a Verzuz.
T.I. and his wife Tiny faced allegations of sexual misconduct last year, although one case in Los Angeles was dismissed in September 2021.