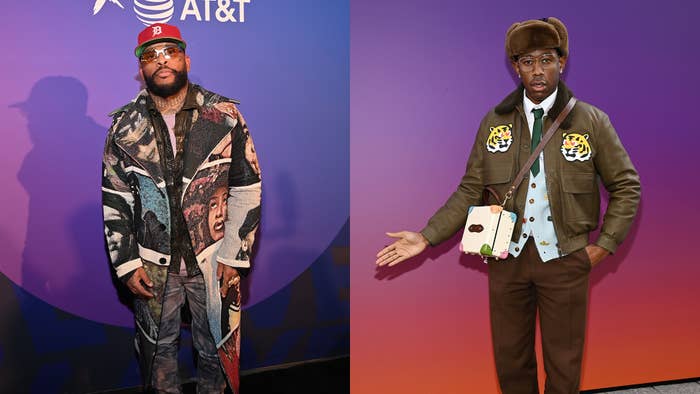 In a post shared on Instagram last week, Royce Da 5'9" said that he told Tyler, the Creator he's one of the "greatest" rappers.
Alongside a pair of photos that see Royce talking into Tyler's ear at a party, the Detroit rapper wrote, "Me telling @feliciathegoat he's officially one of the greatest, in my humble opinion." In the comments, Tyler replied, "Thanks for the kind words man." Busta Rhymes also chimed in, and added, "Agreed one million percent!!!"
The photos were taken at a private listening party for DJ Drama's new album I'm Really Like That, which currently doesn't have a release date.
DJ Drama also posted about the listening party on his Instagram, with plenty of photos showcasing who was in attendance. Alongside Tyler, Roddy Ricch and Don Cannon were among those to show up, offering up hints about who might appear on the album when it drops.
This isn't the first time Tyler and Royce have crossed paths. The Shady Records associate previously responded to Tyler after he called the 2014 Eminem-led compilation album Shady XV, which Royce appeared on, "fucking ass." In an interview with VladTV that same year, Royce said he ultimately didn't "have much of a take" on Tyler's thoughts, and said he didn't care. "If the kid got his opinion, he got his opinion. It's just what it is."