10 Things We Learned From Kodak Black's 'Off the Record' Interview With DJ Akademiks
Following a year that saw him get released from prison thanks to a Trump pardon, Kodak Black joined DJ Akademiks for the latest 'Off the Record'​​​​​​​ podcast.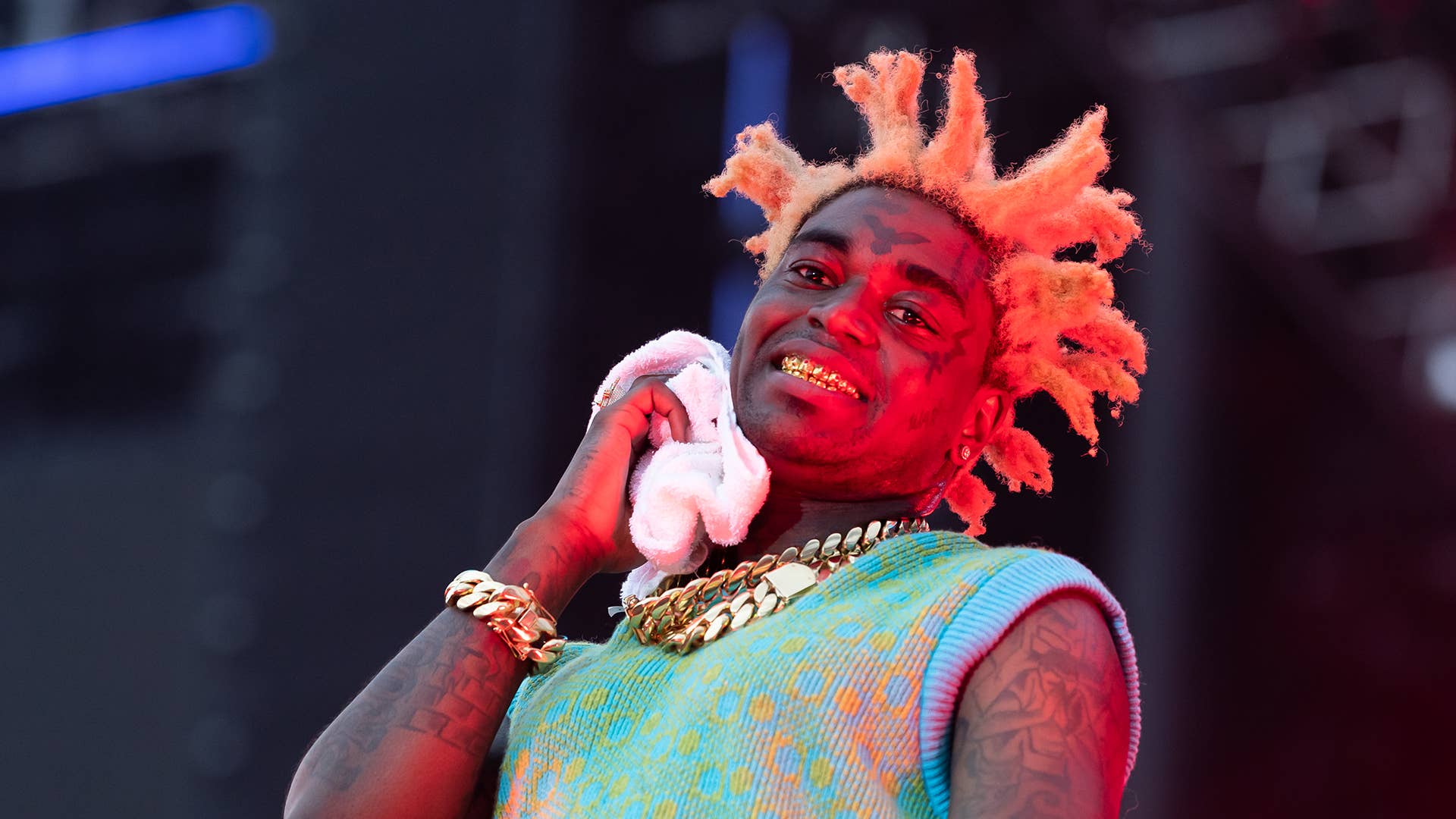 Getty
Image via Getty/Jason Koerner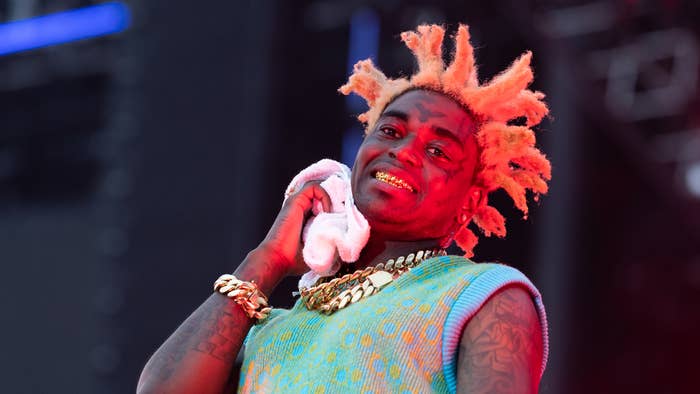 Following a year that saw him get released from prison thanks to a Trump pardon, Kodak Black joined DJ Akademiks for the latest Off the Record podcast.
In the lengthy chat, during which Kodak was accompanied by his pet marmoset on his shoulder, the south Florida rapper opened up about his time in prison, his many beefs, and what came of his opportunity to work with Drake. He even spoke about his frustration regarding issues with YoungBoy Never Broke Again, with whom he used to be very close.
Kodak has been very reflective as of late, especially following the death of his longtime friend WizDaWizard. Kodak said in a series of recent tweets that he was willing to move past his beef with Sniper Gang signee Jackboy, who he's called out on social media several times. "Let's use this as a wakeup call," he said, directly tagging Jackboy. "Fuck this distance love n***a come give me a hug n***a." Black also wanted to make amends with Yung Miami of the City Girls, apologizing to her in a tweet. "Ain't mean to disrespect you I cry tears I'm sorry," he wrote.
Listen to the full podcast above, and check out some of the most notable moments below.
Kodak is down to perform at a Trump rally
At the start of the year, Kodak Black had his sentence commuted by Donald Trump during the last days of his presidency, resulting in his release not long after. When asked about the response to the pardon, especially after Kodak thanked Trump on social media, the rapper paid thanks to his lawyer and questioned what else he was supposed to do in response to the news. 
"What y'all expect a n***a to do? Kodak be like, 'Oh, Fuck Trump'?" he asked, suggesting Trump showed loyalty and respect by pardoning him. "Bless the n***a, homie... I would've still been in prison." Akademiks asked if he would ever do a performance at one of Trump's rallies, to which he replied, "Hell yeah I'd come through. … He looked out for me."
When it was announced earlier this year that his sentence had been commuted, Kodak tweeted his appreciation for Trump. "I want to thank the president," he wrote. "For his commitment to justice reform and shortening my sentence. I also want to thank everyone for their support and love."
Ever since, he's not been shy about showing appreciation for the one-term president.
As Kodak was first gaining traction, he caught the attention of Drake, who showed him love by posting a video of himself enjoying one of Black's tracks. While he's appreciative for Drizzy, he thinks it wasn't a huge deal since he was already on his way to fame.
"I was already doing my shit, of course it got to him," he said when talking about the Drake "co-sign" saga. "I fuck with that boy... I was supposed to be on the album but I don't know what happened though." He specified that he meant Drake's album, although it's not entirely clear if he was referring to Certified Lover Boy or an earlier release.
Drake complimented Kodak's most recent release earlier this year. "You really on another level," he said after Black dropped Haitian Boy Kodak, his first post-prison project.
Kodak thinks a collaboration between the two of them is long-overdue, so he has ambitions beyond one song. "We gotta do… a whole album now," he said.
After touching on how he managed to lose a lot of weight while behind bars, Kodak said he wasn't getting enough love from people in the industry—specifically, some of the major award shows.
"They need to do a real n***a nomination," he said. "They scared of real. I feel a lot of bitch n***as be be uncover behind the scenes like, 'No man, naw, don't have him on this.'"
He didn't open up about what gave him that impression, but the rapper hasn't received a nomination for a major award since 2018.
Kodak has made his issues with YoungBoy Never Broke Again, whom he almost signed to Sniper Gang, very public in the past. The two appeared at odds after Kodak accused YoungBoy of cooperating with the feds. When the topic of their beef came up, Black explained just how close the two of them used to be.
"Lil bro used to come to my house and shit," he said after highlighting that they never got the chance to record a project together in the studio, but that he was close enough of a friend to meet Kodak's family. "I was fucking with that boy, to the point like where he'd be at my house with nobody. … We serious people... he just trust a n***a."
YoungBoy apparently was on good terms with Kodak's family when he was behind bars, visiting them during the Christmas season in particular.
Black also briefly spoke about his beef with Jackboy, saying the two of them are working out their issues, which he called a "miscommunication." 
Asked which Florida rappers he's listening to, he made it clear the scene he's from isn't quite as united or friendly as other rap communities in the country.
"I fuck with Ace [Hood]. … Florida ain't never gonna be like no Atlanta shit, like everybody rocking with each other," he said, adding there's at least respect for the dead in Florida, not people "pissing on n***as graves and shit." 
Kodak revealed he kept himself busy during his time in prison by working on a film idea. The subject of a Kodak-penned script came up after Akademiks mentioned the artist shared a Valentine's Day poem for Zendaya on Instagram, with Akademiks telling him she "ain't about to fuck with you." 
"She ain't got no choice," Black replied. "I wrote this movie when I was in prison, I know one day she gon' be in it. … I was supposed to did this Halloween movie but we ain't shoot it and shit."
He also indicated he wants to do more acting and would direct his own script if given the chance.
Kodak Black said Crips in prison "understood" his comments about Lauren London
In 2018, Kodak walked out of his Hot 97 Ebro in the Morning interview after his sexual assault case was brought up.
"Shit, in hindsight, even before I did that shit with him, I ain't even know who this n***a was, but I was like, 'Man, this n***a, he probably one of them motherfuckin' grumpy ass old n***as, know what I'm saying?" Black said when asked about the interview.
Of the case Ebro asked him about, he said, "That shit over with [now]—at that time, it was like, this shit was still a case. … It was an open case," he said, going on to insist he knows Ebro Darden isn't "from the streets." He clarified that he couldn't comment on the situation at the time because his lawyer advised him not to. "Fuck that n***a," he concluded.
Kodak was one of the rappers in XXL's 2016 Freshman Class, appearing alongside the likes of Lil Uzi Vert, Lil Yachty, and 21 Savage among others. Asked if he's on friendly terms with any of the other rappers nowadays, he immediately gave a shout out to his collaborator Lil Yachty.
"Yachty's my boy," he said. "At first, Yachty was a little suspect to me, like he was a little off. I ain't understand him." After he was invited to a party by Yachty in Calabasas, he realized they got along well. Pierre "Pee" Thomas, Yachty's manager and Quality Control co-founder, said the two of them were from "different worlds" but would be on good terms if they got to know each other better.
"Then when I was in prison, I'm hearing from Yachty… we video visiting, like he reaching out… yeah, I fuck with that boy," he said. "I always got love for Chris Brown, too… He dropped 10 racks on me."
Following the conversation about his abrupt exit from his Hot 97 interview, the topic of his sexual assault case reared its head again.
Kodak was accused of assaulting and raping an underage girl in South Carolina in February 2016, following a performance at the Treasure City club. She told police at the time that he tore her clothes off and told her he "couldn't help himself" as she screamed and tried to push him off her. The alleged victim, who was reportedly a high school student at the time, told her school nurse she was raped and bitten by the rapper.
"I ain't paid a bitch—you got other n***as who they gotta pay a bitch a million dollars, two. I ain't paid a bitch shit. I ain't coming off nothing. I ain't did it, you know what I'm saying? You ain't getting this money. You know I ain't did that shit."
He said he took a guilty plea because he's a young Black American and wouldn't be treated kindly otherwise.