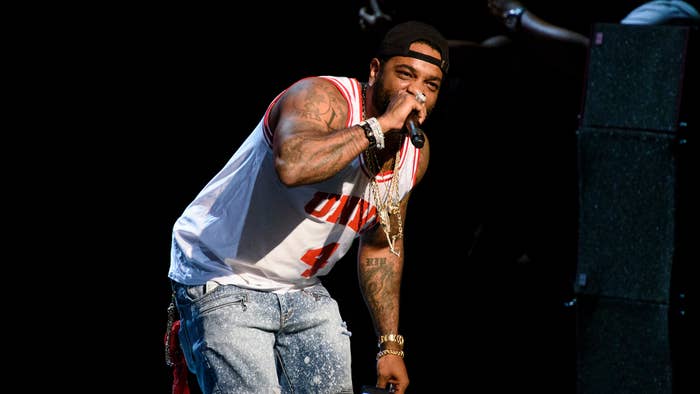 Jim Jones has weighed in on the debate as to who Jay-Z should face off against in a Verzuz event, and he believes only Drake is up to the challenge.
Reporter and sports analyst Brandon "Scoop B" Robinson sat down for an interview with the Dipset rapper recently, and directly asked him who out of Nas, Lil Wayne, and Kanye West would make for the best Verzuz with Hov. 
"I thought about it a million times," he told Scoop B. "He's one of the illest people I've seen get on stage when it comes to performances, from the days of his Summer Jams spats when he used to put people on the Summer Jam screen and embarrass them... So, I don't know if people are ready for that type of warfare. I don't think they're ready for how he's going to come; they're worried about the hits he has and I know he's going to come with the wittiness and his creativity is way way iller than the hits he has. So, I would leave that alone if I was most of them."
While Kanye's name gets brought up a lot in these hypothetical Verzuz match-ups, Jones thinks that it's Drizzy who is the most capable of squaring up musically. 
"The person I would say that would put up the best fight, it would be Drake hands down," he remarked. "I know that Drake hasn't been here for the duration that Jay has been but, Drake has put out platinum hits every time he's put a record out and we all know that every one single of Drake's hits for the past 10 to some odd years that he's been in this game, which is a long stretch doing music, and he's breaking a lot of records when it comes to entries. When it comes to 20 hits, I think that Drake would be the top candidate to jump into the ring with Jay."
He addressed concerns that such a battle might be uneven, but the number of hits Drake has is hard to beat, he argued. "Don't play with that boy, ya dig?" he said. "I'm talking about right now."
He also briefly addressed his clash with Freddie Gibbs and his crew, although he didn't directly talk about the alleged incident. "I'm all about peace," he replied when asked about the situation. "I don't know what's going on with all that, I haven't heard anything about that. I'm all about peace. I'm pushing that positive narrative. I'm a grown ass man that likes to do grown things and that's that."
Watch both clips from the interview via Scoop B's Twitter above.