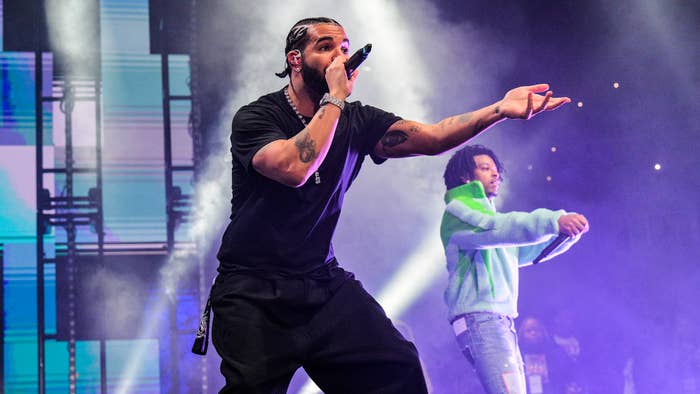 As promised, a new Drake freestyle is here.
Between dates of his It's All a Blur tour with 21 Savage, the Canadian superstar stopped by On the Radar Radio to deliver a freestyle with British rapper Central Cee. Introduced by journalist and radio host Gabe P, the pair took turns over booming production.
The freestyle arrives ahead of Drake's highly-anticipated new album, For All the Dogs. He announced the project last month with the arrival of his poetry book, Titles Ruin Everything.
During a show at the Barclays Center in Brooklyn on Thursday, July 20, Drizzy teased the imminent arrival of the freestyle and his next studio album, For All the Dogs. "I got a freestyle dropping tomorrow," he told the Brooklyn crowd. "I got an album coming in, like, I don't know... A couple of weeks or some shit." On the same day, he was spotted leaving his NYC hotel in a dog mask, indicating that he's very serious about the "Dogs" part of the title of his next album.
Prior to the release of the freestyle, Drizzy also shared a photo of him and Cee at the On the Radar Radio studio.
The freestyle marks yet another huge get for Gabe P's weekly radio and YouTube show, which has attracted some of the biggest names in New York drill and beyond. In an interview with Complex last year, Gabe P said that he wants to help provide a platform for young talent and he's since bolstered the profile of many promising names.
"As we grow and bring more artists, I get to now bring their world and music to other people, and I think that's the most beautiful part of it all: [showcasing] people's lives who aren't just from New York," he said. "I think we've done that pretty well with the UK… We're going to continue to do that with the Afrobeats artists and continue to grow."
Listen to Drake and Central Cee's freestyle up top.