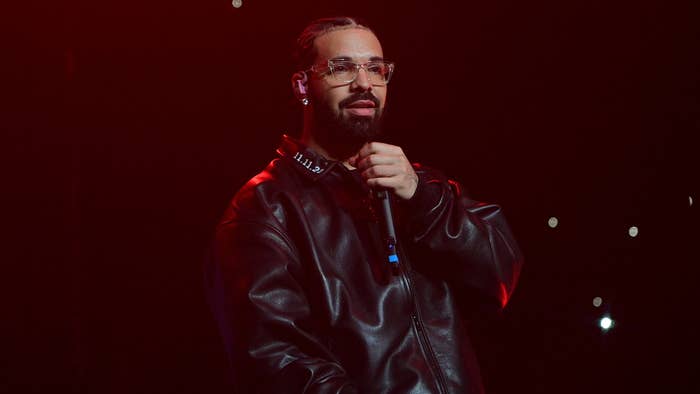 During the third Barclays Center show of the It's All a Blur Tour, Drake teased that his new album For All the Dogs is coming very, very soon.
"I got a freestyle dropping tomorrow," he told the Brooklyn crowd. "I got an album coming in, like, I don't know... A couple of weeks or some shit."
Around the time of his show on Thursday, Drake was also spotted leaving his hotel in a dog mask.
The latest update isn't quite a concrete date, but it's clear that Drizzy wasn't kidding around when he told an audience in Chicago earlier this month that he's not an artist who wants to keep his fans waiting. "I look around at all these faces, I know it's summertime, I gotta give you shit!" he said at the time. "I don't know about these guys that go away three, four, five years and wanna chill out and all that shit. That's not me."
While Drake is currently busy with his tour, which runs until October, he's not wasting any time with the follow-up to his collaborative album with 21 Savage, Her Loss. The record was the second full-length he dropped last year, after the stylistic pivot of Honestly, Nevermind, a dance album he surprise-released. That effort arrived less than a year after he dropped his sixth studio album, Certified Lover Boy.
Alongside the announcement of the Titles Ruin Everything poetry book, Drake let fans know he made an album to "go with the book." On his website, he teased, "They say they miss the old Drake girl don't tempt me."
During a show a recent show in Montreal, he told men in the audience to bark if they refuse to put up with "bullshit" from women this summer. "I got two questions for you... All my ladies, if you're not putting up with no bullshit from none of these men this summer, make some noise for yourself," Drake asked the audience, which was met with screams. "And all my dogs, if you not putting up with no bullshit from these women I wanna hear you go, 'arf arf arf arf.'"