The Ear of NYC: Gabe P Talks Creating 'On the Radar Radio,' Viral Freestyles, and More
Gabe P, creator of 'On The Radar Radio,' tells Complex stories behind the show's most viral freestyles, getting the Drake and Nicki Minaj co-sign and more.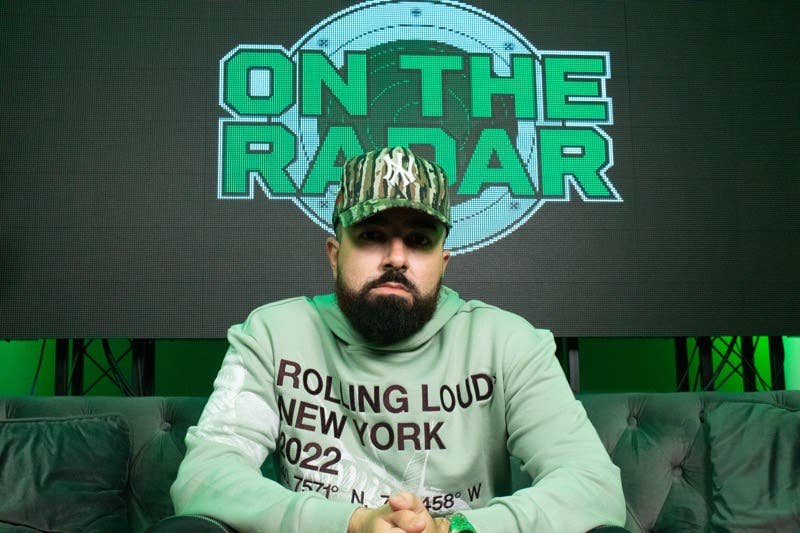 Publicist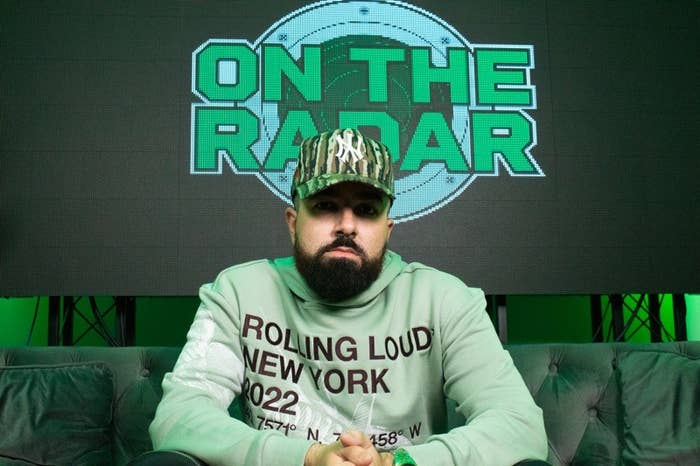 Before rap freestyles were readily accessible on YouTube, there was Rap City: Tha Basement. The studio-style show, hosted by hip-hop historian Big Tigger from 1999 through 2005, featured everything from new hip-hop videos to artist interviews and cyphers. It became a hub for rap fans to discover new acts and watch their favorite MCs spit freely in a no-hold-bars environment. 
Rap City yielded some great moments back in the day, from Lil Wayne's iconic freestyle with his red bandana over the mic to a young Dipset flaunting their NYC dominance. Now, 14 years later, journalist and radio host Gabe P is creating new cultural moments for a different generation with his weekly radio/YouTube show, On The Radar Radio.
Having mentored under the tutelage of radio hall-of-famer Angie Martinez as a Power 105.1 intern during his college days at St. John's University, the 26-year-old Long Island native recognized early on that there was a gap in rap interviewing he wanted to fill.
"For me, I was too young at the time to become a part of the SoundCloud era in terms of media, but that was when I was listening to this shit and watching media and thinking, 'Bro, nobody here is representing for the young kids,'" he tells Complex in his rainbow-lit Brooklyn studio.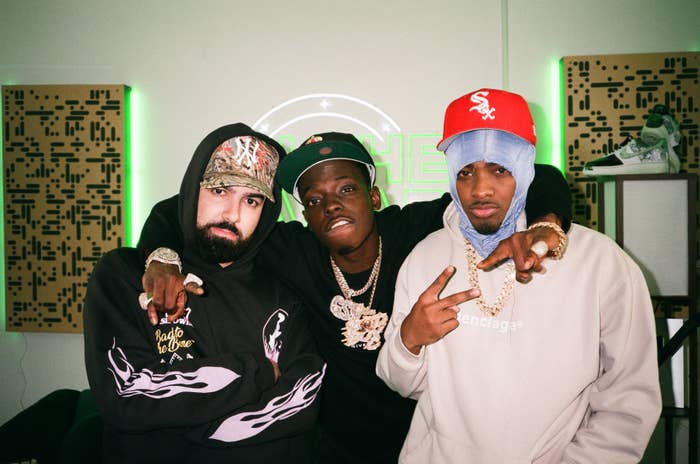 The desire to fill that gap birthed On The Radar—a radio show that Gabe started in 2018 in an empty studio in the iHeart Music building while simultaneously handling Power 105.1's social media accounts. OTR started out small; Gabe says he interviewed one to two artists a week in the summer of 2018 through 2019. Now, that number has jumped to the dozens, with him shooting anywhere from 10 to 12 new episodes a week and steadily releasing them over the course of a month.
The shift to Zoom in 2020 due to COVID-19 slowed down the show's progress, but after weathering that storm, On The Radar emerged with strong artist relationships fostered through virtual interviews and a new shared recording studio in Brooklyn—courtesy of R&B artist Devvon Terrell. The studio space that OTR became known for had a ceiling lined with white foam to imitate clouds, and a massive black screen behind a plush couch with the show's signature logo projected onto it. In the last few weeks, though, Gabe and team were able to move into their own recording space elsewhere in Brooklyn, which now comes equipped with an upgraded LED-version of the On The Radar signage and a slime green and black hexagonal sky. 
The radio show now boasts over 100,000 subscribers on its YouTube channel and has become a pivotal part of the burgeoning New York drill scene, because it offers a platform for any size artist to tell their story and showcase their bars. You don't need a specific follower-count or level of prestige to be on the show—just some passion behind your music and the courage to step behind a live mic and spit.
"Some of the first artists I had up there were Cash Cobain, Leeky G Bando, and Chow Lee, mad funny looking back on that. Those were the first three artists we shot in the main OTR room," Gabe explains. The show has shifted from being New York dominant to featuring artists from all over the world.
I realized that the drill scene had more levels to it than the people [who] we see on social media and are considered the top artists. 
The show has yielded several viral drill moments already, including Chris Patrick's impressive freestyle, a pre-"Munch" Ice Spice performance that caught the attention of Drake, and recently, an energetic lyrical display from Bobby Shmurda. And outside of the New York drill scene, On The Radar has also featured out-of-town artists like AJ Tracey, Giggs, and more. While the show has been a pillar to the New York drill community, Gabe's vision is for the program to reach a more global audience.
"As we grow and bring more artists, I get to now bring their world and music to other people, and I think that's the most beautiful part of it all: [showcasing] people's lives who aren't just from New York," he explains. "I think we've done that pretty well with the UK… We're going to continue to do that with the Afrobeats artists and continue to grow."
Before conducting his interview with G Herbo, we caught up with the creator and host of On The Radar Radio, Gabe P, to talk about consistently finding new up-and-coming talent for the freestyle series, receiving recognition by the likes of Drake and Nicki Minaj, and how he plans to make the show a global brand.
This interview has been lightly edited and condensed for clarity purposes.
How did On The Radar begin, and when did it gain traction?
I saw a gap in the industry… My homie Nick and I came up with the On The Radar name, and somewhere in a journal of mine there's an old OTR design that I drew. I gave that to the graphic designer at Power 105.1 at the time because I was running the social media accounts. The graphic designer was in the cubicle next to me, this was in summer 2018. I gave him the design and he made me the logo. Then I found a little side room in iHeart and I asked my boss, "Hey, I just want to do interviews. I don't want anything crazy. Just a space to do one interview a week, can I find a space in here." I connected with the guy who runs the schedule for the studio, booked with him once a week, and brought in interviews once a week while doing my normal job. At that time, I wanted On The Radar to be under Power 105.1 because that would be the name to help me get bigger artists, but they wanted me to build it up on my own. I didn't understand it at first, but I definitely understand it now, for obvious reasons why it's important to build my own brand. So from 2018 to 2019 I would just bring one or two artists there a week and do interviews. I wasn't doing any real big artists early on, but one of the dope artists who first fucked with me were Phony Ppl out of Brooklyn. If you know them, you know. 

When did you see it start to gain traction?
We were doing one interview a week for a while, and then at the top of 2020, I started doing more… I started a gaming show on Power called Enter Player 2 where I would play video games with artists. That gave me access to Sheff G and Sleepy Hallow. I did that for a while, and then the pandemic hit and I couldn't do the gaming show anymore, but I was still doing On The Radar [that] whole time… dropping one to two OTR interviews a week leftover from pre-COVID time, and I was in a tough place because I had no real direction. At the time, I didn't want to do Zoom because I was just going to wait for the world to open back up, which is funny to think about now.
"Drake and Nicki were two of the people who acknowledged my shit on that level. That's pretty cool to me… Especially because I lived in Queens for a part of my life."
Eventually, I started to do Zooms, and I went through this depressive episode that whole summer because I just wasn't sure what to do with myself. I couldn't do overtime at work, I wasn't making as much money as I was before because I couldn't be outside, it was just a lot. At the time, I was in my crib and my ex was over, and I remember I was just like, "Honestly, fuck it. I'm going to start doing mad Zoom interviews. I don't even care who it's with." So I started doing mad Zoom interviews with people all over—from the West Coast, down south, Africa, and Puerto Rico. I did Spanish interviews that I had a friend translate. I was just doing them back to back, and then December came along and one of my PR friends brought me 26ar. He was fresh home out of jail, and just had a project come out, so I did a quick interview with him. I dropped it the same week I did a Kali Uchis interview, and 26's views just shot up. That's when I realized that the drill scene had more levels to it than the people [who] we see on social media and are considered the top artists. 
When did you start to go all in with the freestyle series?
I got five artists together who I fucked with: Zero Mckenzi, Lola Brooke, Tydre, Nate Joël, and Dolla $ign J from Queens and I just called it "The Starting Five: On The Radar Freestyle Session." I had all of them in here in the same hour just doing back-to-back freestyles, this was July 2021. I dropped those week-by-week and just started having more artists come through to the space. I was just inviting artists who I had on Zoom already and asked them to do a freestyle along with another interview. After the "Starting Five," it was Akinyemi, Ciggy Black, Lou from Paradise, Fatt Loc, Niko Brim, Klass Murda, The Controverse, and eventually Nas EBK which was the first real viral freestyle. 
How did the Dthang freestyle come together, which still has the most views on the channel?
I did an interview with Dthang at the top of September, but he couldn't do a freestyle at the time, but he said he was going to come back. That's basically what led to what you see today with all the freestyles. The Dthang freestyle came about because Bando [Gz] came to do his interview and freestyle, and then I got the call that day that D would pull up and knock out his too. As soon as Bando finished, it was like a movie. When Pitchfork said that he had an "out-of-body experience," they were right. He came in, dapped everybody up, got on the mic, did one take, and then asked if he could do it again because he wanted to talk a little bit more in it. I looked at him and said, "Nah, that's perfect." And then they left, and that's literally how it happened. People think there was some grand story behind that freestyle, but there really isn't. We had talked about it, he wasn't feeling well the first time, did it in one take that time, and left. 
Was there a pivotal moment when you realized that all the investing you put into OTR was starting to pay off?
In my head, there wasn't one specific moment. You could say the Dthang freestyle going viral was the moment, and that was definitely a moment. But in terms of me spending my money on this shit, there was no other plan. I had just gotten on-air [at Power 105.1] that September, so the Dthang freestyle didn't even come out yet. The on-air stuff was cool, but I didn't want that to be the only thing I did. I needed something else to do outside of that, I needed content. We live in a content age where you need to constantly be putting shit out. If I didn't have any other content, then nothing would have happened, so in my head, I was like, "Look man, you're making good money. I'm doing my digital job running the socials. I'm getting bookings for showcases, and I have this on-air job." I just said fuck the money, we're going to take the risk, and that's what I did. I kept buying studio time, booking artists, and filming a ton of stuff a week.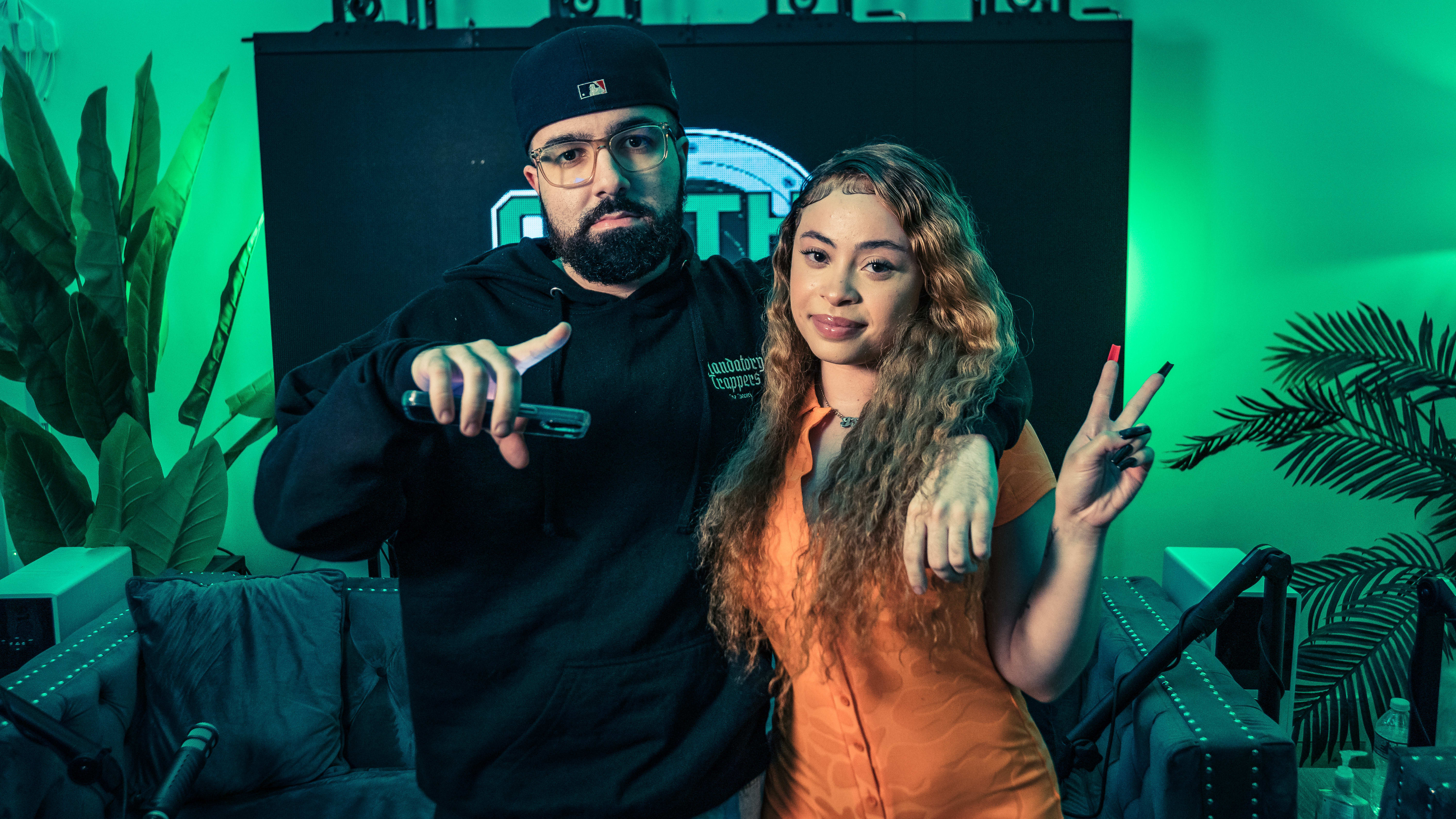 How do you discover new up-and-coming artists to come onto OTR?
It really depends. Obviously, I'll look to the blogs and reaction YouTubers like WhatNYCSoundsLike, nydrillpage, crooklynreactions, BmgUpperClass, SilkyLive, and so many more. They are definitely a core way that helps me find artists, and then also on my own. A lot of the artists who get brought to me, up-and-coming, they're usually brought to me by dope ass A&Rs from the city. You look at Bobby from Empire, he's responsible for Dusty Locane, Sheff G, Sleepy Hallow, Rah Swish, Ron Suno, he has a very long list under his belt. Or Fat Ricky, he calls himself the street's A&R, and that's facts; he's brought me a lot of people. Sprat brought me Kay Flock and them, so it really just depends. When I look for upcoming talent, I look at engagement. It sounds dumb to say that I look at people's comment section, but if you drop a song, I think right now some of the hottest young artists have crazy comment sections. This young kid from the Bronx, DD Osama, just got signed. Him and Sugarhill Ddot are just kids, but their comments section has hundreds and hundreds of people and that, to me, is a sign that they're bubbling. I'm not saying you need to have a thousand comments for me to say that you're hot, but if I see that you have a Triller video or a TikTok teaser of an upcoming song, and I see 500 comments, I'm intrigued. Look at SpliffHappy, people look at him and think that he came up here and did a joke freestyle. But SpliffHappy makes good records, and he has 13,000 followers, but he gets 600 comments and is performing at Rolling Loud. I know artists who are signed and have blue checks who don't have that type of engagement, so that's kind of what I look for when it comes to artists. It's how many people are actually with them.
What do you think has been the most important freestyle for On The Radar?
That's a tough question to answer… I don't think you can pinpoint just one because there are different freestyles that are important for different moments in time. You could look at the Dthang freestyle, which has over 8 million views right now, and say that that was the most important moment, which isn't entirely wrong because it is an important moment and one that put OTR on the map and helped amplify Dthang. I had two Florida rappers on today, and they were like, "Yeah, we were bumping that freestyle in Florida." At the same time, you have to look at Digga D. Digga wasn't the first UK artist to come on the show, but he was the biggest one to come on at that time. After Digga, everyone was paying attention to On The Radar in the UK. Right after him, AJ [Tracey] hit me up, and that led to Giggs and more. You could also look at the Kay Flock, B-Lovee, and Dougie B interview as being very important because that was when the Bronx drill era was just starting to get poppin. There's not just one moment that you can pinpoint because there's been multiple. 
Who has been the wildest person that has acknowledged On The Radar that hasn't been on the show yet?
You want me to say Drake, and the answer is Drake partially. He is definitely the biggest one who's ever typed out the words "On The Radar" on their phone. But actually, when I did Rolling Loud 2019 and did an interview with Maliibu Miitch, which was for Power and On The Radar, I got recognition from Nicki Minaj. Nicki posted that clip, and that was the first big look that I had ever received from a bigger artist, because it was 2019 when I was only a year into the show. I wasn't really doing big numbers, but that was the first time I ever got acknowledged by a bigger artist. Now you look at the Drake stuff and it's just been a steady evolution since then, so I'd probably say Drake and Nicki were two of the people who acknowledged my shit on that level. That's pretty cool to me, that I got two of the big three to acknowledge the platform. Especially because I lived in Queens for a part of my life.
Who are your top five artists of any size that you hope will eventually be on On The Radar?
No. 1 is Benny the Butcher/Griselda. I say Griselda because if I had any one of them, I would be happy. Drake because that's a no-brainer, and he's in tune. I want Lil Uzi Vert because I came up during the SoundCloud era, so that would be a big deal for me. I also want Kodak Black. And my last pick would have to be Jadakiss. I would've said DMX, God rest, but I've been listening to a lot of The Lox lately. 
Why has it also been important for you to get people outside of New York onto the show and expand beyond the drill scene?
If you look at any New York artist that has transcended the city like Pop Smoke as a young example, God rest his soul. New York has a way of trying to keep you in New York. People want you to stay in the bubble with them, and I don't think there's anything wrong with that bubble, because it has promise, opportunities, and success. But when you want to reach a certain level and go outside that bubble, you have to take those risks. Pop is a perfect example because he took those risks and did stuff beyond drill music and became a superstar, records with Davido, Karol G, in the studio with Travis Scott and all that. Look at Nicki Minaj too. When you think of Nicki, we know she's from Queens, but not everybody in the world thinks of Nicki Minaj as being from Queens. We think that because we're from New York, but the average person who listens to Nicki from other places may not even recognize that. 
I think that's the most beautiful part of it all: [showcasing] people's lives who aren't just from New York.
For me with On The Radar, the goal has always been expansion. I'm a big believer in thinking that if I get too comfortable then I won't be able to reach the next step in my career. OTR is all about expansion and bringing artists from everywhere, that's always been the point of the show. I'm not saying that we aren't going to do New York artists anymore because I love the city and the music here and I'm always going to support the culture, but for me to grow and expand and become what I see myself destined to be, I can't just keep doing only New York music. Lately, we've been diving into Afrobeats, the UK, we have a big audience in Florida and have had a lot of Florida rappers come up here. In the past two weeks, we've only had, maybe, three New York artists come out of 20 artists total. That's not on purpose, but it's been fashion week and Rolling Loud when we're recording this, which is big for out-of-towners so we're bringing everybody into our world right now.
Is there anything you want people to know about you or the show? 
We have a dope hourlong interview with Sonny Digital on the way. I have an interview with Jacquees on the way, plus Yung Gravy. That might be one of the funniest interviews I've ever done. Freestyles are on the way from Real Boston Richey, Future's new artist, and Sky Water, and then a lot of my New York folks like Kai Cash and Niko Brim, Set Da Trend, and a crazy UK freestyle from Unknown T. The new studio is also probably open by the time people read this. I'm just excited for the future and expanding the brand. It's been a blessing to do this and I look forward to keeping it going and kicking in the door for the young folks and building something with the young superstars. And you know it's On The Radar radio, Power 105.1 Gabe P NYC. Step in, step out, don't get stepped on; word to Hoodfly Mike!