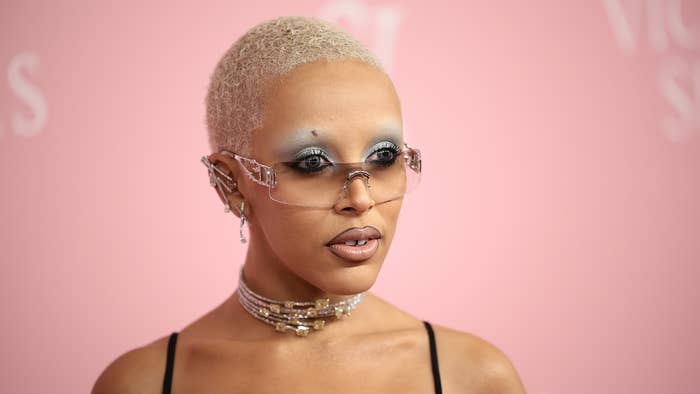 Doja Cat has scored her second-ever No. 1 single on the Billboard Hot 100, which also happens to be the first rap track to top the chart in over a year.
"Paint the Town Red," taken from the rapper/singer's forthcoming album Scarlet, has risen to the No. 1 spot from No. 3 in its fifth week on the Hot 100, per Billboard. It's the first rap song to take over the chart since Nicki Minaj's "Super Freaky Girl" in August 2022. Incidentally, Doja garnered her first No. 1 thanks to "Say So" in 2020, which was bolstered by a remix featuring Nicki Minaj.
"Paint the Town Road" breaks the longest drought for chart-topping rap songs since 2001. Doja's single got over 84 million streams and 12,000 sales in the week ending Sept. 7.
Earlier this year, Latto became the first rap artist in 2023 to reach No. 1 after appearing on BTS member Jung Kook's "Seven." While the song itself wasn't hip-hop, it was a sign that rap's commercial viability is still very much alive.
More recently, NLE Choppa suggested that he could become the first rapper in 2023 to land a No. 1 placement on the Billboard Hot 100 as a lead artist. "Bet lemme change that rq," NLE wrote in a since-deleted post on X, the social media network formerly known as Twitter. Choppa has yet to chart higher than No. 28 on the Hot 100.
In the lead-up to Doja Cat's new album Scarlet, some fans have theorized that she dissed various women in hip-hop in her recent music.
"People don't wanna accept I'm dissing them so they try to pin it on cardi nicki and meg and every other female rapper," Doja Cat wrote on her Instagram Stories earlier this month. "I don't diss rappers I diss critics. Stay bored. Stay reaching. ... I don't diss people i'm inspired by i don't diss people i look up to. i don't diss people who don't harass and attack me every day. Y'ALL DO. SHE doesn't. THEY don't. Y'all are the problem."
Scarlet is due to drop on Sept. 22, the same day as Drake's highly anticipated For All the Dogs.