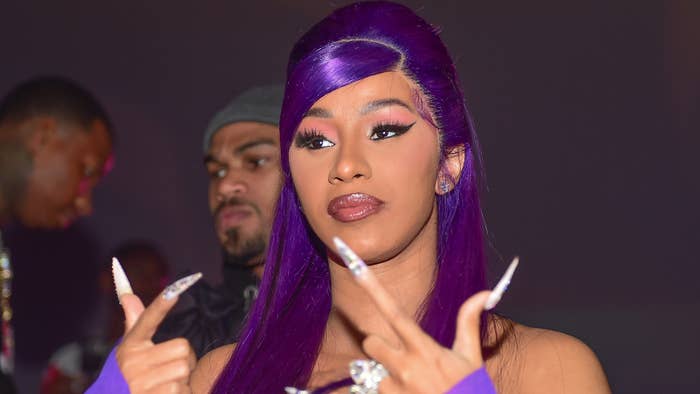 UPDATED 3/30/20, 7:55 p.m. ET: TMZ reports GoFundMe has struck down the possibility of Cardi B starting a campaign for Joe Exotic, citing its own Terms of Service page, which states that money cannot be raised for "the legal defense of alleged crimes associated with hate, violence, harassment, bullying, discrimination, terrorism, or intolerance of any kind relating to race, ethnicity, national origin, religious affiliation, sexual orientation, sex, gender or gender identity, serious disabilities or diseases, or financial crimes or crimes of deception." 
Exotic is serving a 22-year sentence for his murder-for-hire plot against his enemy Carole Baskin.  
See the original story below.
Over the past week, Cardi B has made her interest in Netflix docu-series Tiger King abundantly clear. Like the rest of the country currently quarantined on account of the COVID-19 pandemic, Cardi has been captivated by the story of Joe Exotic and his deadly feud with Carole Baskin.
As she watched the series, she shared her thoughts on Twitter, and now she appears to have thrown her support behind the newly famous Joe Exotic. "They did Joe so dirty over and over again," she said of the Tiger King star who is currently behind bars for 22 years on two counts of murder-for-hire and 17 wildlife-related charges. "Who you think is more wrong? Narcissist Joe? Or greedy Carol? And why?"
Ever since the docu-series premiered on the streaming service, a lot of people have expressed their support for Joe Exotic, the owner of Greater Wynnewood Exotic Animal Park. The documentary is framed in such a way that it throws into question whether he was behind the murder plot featured in the series, and Cardi clearly thinks he's innocent, too. In fact, she said on Twitter that she is considering starting a GoFundMe campaign for him. "He shall be free," she wrote.
It's unclear if she's joking and if she's really willing to help out the convicted tiger breeder. As of Saturday, she has yet to launch such a campaign. Tiger King: Murder, Mayhem and Madness is available now on Netflix.