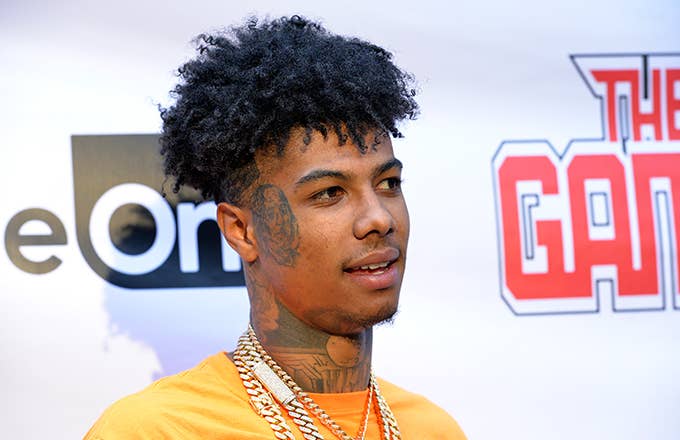 Earlier this month, Blueface and his family aired out some of their problems over social media. It all started when the "Thotiana" artist was filmed by both his mother and his sister after he decided to kick them out, supposedly after one of his two girlfriends refused to greet his mom. The incident started some arguments that led to the forceful eviction, which saw him pushing his sister and yelling as they both initially refused to get out.
As more information continued to surface, including a video that shows Blueface's sister allegedly threatening to stab him, the rapper apparently decided to channel the drama into a new song. Previewing a fresh track on his Instagram Stories, the proud Crip referenced the ordeal.
"On my momma and my sis, had to kick my own blood out/They must've forgot I was a Crip," he rapped in the clip with a huge grin on his face. Interestingly, he also debuted his brand new face tattoo in the clip.
When the drama first surfaced online, Blueface responded to the ensuing chaos with his typical carefree attitude. "Sheesh you know it's getting hectic when yo own momma do it for the clout," he wrote on his Instagram. It initially seemed as though he was going to move past the situation, but now he's apparently got a diss track directed at the two on the way soon.