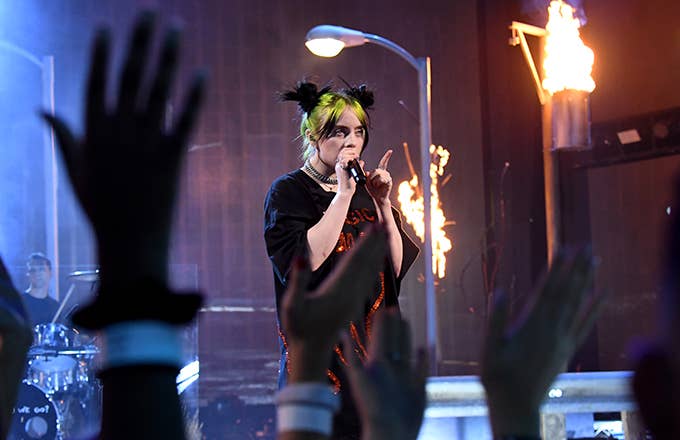 After an absolutely huge year with both a No. 1 single and album, Billie Eilish is getting the documentary treatment. According to The Hollywood Reporter, the 17-year-old phenom is close to partnering with Apple TV+ on a documentary that has already been shot. Per THR, Eilish could receive a hefty $25 million for the doc if Apple does indeed pick it up, though other reports haven't been as specific about the doc's price tag. Variety is reporting that the number is inaccurate, and it would actually be part of a larger overall deal between Eilish and Apple. 
Directed by R.J, Cutler, the celebrated filmmaker behind The War Room and The September Issue, the documentary was reportedly made for a modest $1 million to $2 million, and will chronicle the release of her juggernaut debut album, When We All Fall Asleep, Where Do We Go?.
The currently untitled documentary has reportedly already been shopped to a number of different distributors, but Apple has shown considerable interest. Eilish was recently named Apple Music's artist of the year, and she headlined a concert fot the Apple Music Awards on Wednesday. While Apple has put out video content and documentaries from Taylor Swift and Ed Sheeran on Apple Music before, the Eilish film is set to stream  exclusively on Apple TV+.
While details are sparse, the documentary is expected to arrive sometime in 2020 as Apple TV+ builds its roster of original content.
Eilish meanwhile, released the official video for her song "xanny" on Thursday, which she directed herself. "I'm very excited to share my directorial debut," Eilish said in a statement. "Visuals are so important to me, and I'm very proud to be in a place where I can present my creative vision exactly as I want it. Thank you to everyone who has put their trust in me." Watch the video for "xanny" below.