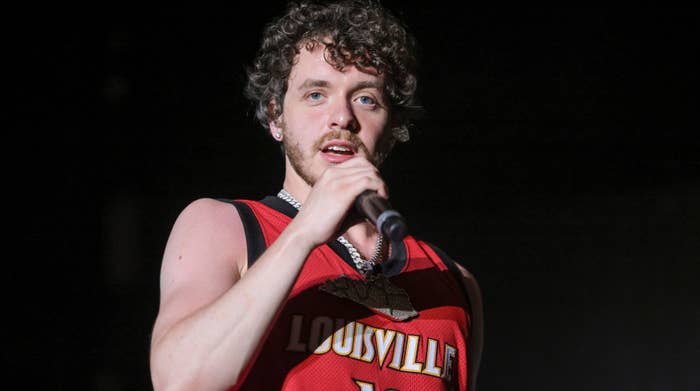 Jack Harlow and Drake are not on PETA's good side right now. 
The animal rights organization is pointing to the duo's single "Churchill Downs"—which Harlow just released a video for, including footage of him and Drizzy at the Kentucky Derby—and urging them to donate profits from the song to help racehorses, per HotNewHipHop. 
"Jack Harlow and Drake have chosen to glamorize horseracing with their new 'Churchill Downs' video," the organization wrote in a release. "In response, PETA is calling on Harlow to donate the song's proceeds toward caring for Thoroughbreds discarded by the industry, which exports 7,500 of them for slaughter every year."
PETA Senior Vice President Kathy Guillermo points to Harlow's "glamorized portrayal of horse racing," adding that he left out the "whips, drugs, and deaths that run rampant in the industry."
"Profiting from the abuse of others is never acceptable, and PETA is calling on Jack Harlow to pony up and pay for the care of American Thoroughbreds who would otherwise be shipped to foreign slaughterhouses," Guillermo wrote. "The only sure thing in horse racing is that the horses always lose."
Of course, the duo shared the "Churchill Downs" visual this past week, taken from his new album Come Home the Kids Miss You, and it follows them as they watch the Kentucky Derby in style as they celebrate the wagers they placed on horses at the event. Toronto producer Ace G told Complex Canada all about how the special collaboration between Drizzy and Harlow came together, explaining that harpist Myriam Eydo began to sing the melody that can now be heard in the track. 
 "It started with just a synth, a harp, and my girl singing. I didn't know it could be a hit," he said. 
Time will tell how, and if, Drake and Harlow react to PETA's latest request.