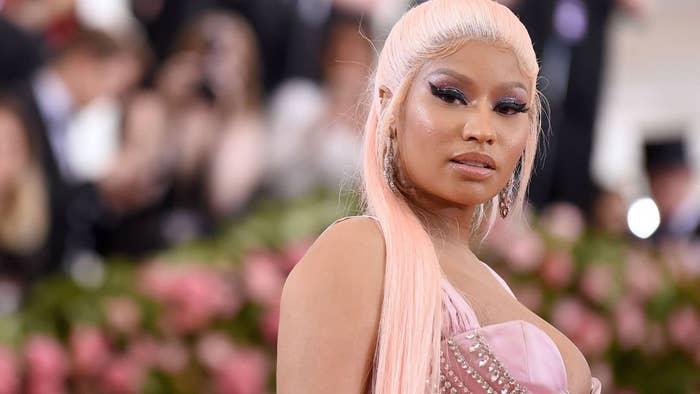 The Barbz who have been eagerly awaiting Nicki Minaj's Verzuz debut may have some renewed hope. 
Minaj caught up with Houston's 97.9 The Box, with the conversation eventually turning to Verzuzbattles. Nicki was asked if she'd ever consider stepping into the ring with her Young Money family members Drake or Lil Wayne, but those particular match-ups might be out of the question. 
"But see, Drake and Wayne, they have so many bona fide hip-hop hits, you know what I'm saying? So I don't know," she said. "But—but—I do think there might be a female or two that, um, that could…well, they were talking to me about it. And look, if it's gonna be a fun, like...then you never know. That's all I'll say about that."
Nicki—who Lil Kim previously claimed she'd like to go against in a Verzuz—continued by revealing a battle should "feel like a celebration," and that competition throughout her career has felt like work. Now she wants her hard work to feel "good."
Minaj also touched on her thoughts on Rihanna's newly revealed pregnancy, adding that Rih was enjoying her time with Nicki's baby the last time they met up. 
"You're more intrigued by little babies when you're about to have a baby and stuff like that," Minaj said. "So looking back, yes. She's beautiful, I mean everything she does, she does it in an iconic way. She does everything on her own terms. But as a human, I'm just happy for her, the human being. Because I know that she's about to experience a different kind of joy."
Nicki added that motherhood is rewarding, regardless of celebrity status. "Even if you're not a big star, when you put in that work as a woman, to me that's your reward from the universe," she said. "It's not a purse or a car, shit that I don't give a fuck about. It's something that's gonna keep on giving. Every single day I say this, every single day my son gives me a new gift."