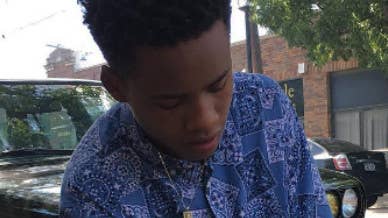 UPDATED 9/5, 9:30 a.m. ET: In a series of tweets, Tay-K or the associate running his account has clarified that the rapper doesn't actually need money after all. "idk why tf that was tweeted on my twitter i don't need money do y'all need some money?" the account tweeted. "me bein broke don't make no sense."
While Tay & Co. made it clear he doesn't want cash sent his way, fans are still encouraged to write to him.
Check out what he had to say on the matter below.
The now-deleted initial tweet read, "SEND TAY LETTERS AND BOOKS. PUT MONEY ON HIS BOOKS WHILE HE'S IN SAN ANTONIO."
See original story below.
Tay-K's representatives are asking fans to support him while he's in jail in San Antonio. 
The rapper was recently convicted of murder and sentenced to 55 years in prison. However, his legal team has appealed both the conviction and the sentencing in the hopes of having them overturned.  While Tay-K remains incarcerated, his representatives are asking fans to put money on his books, send him fan mail, and provide him with reading material. 
The rapper blew up with the song "The Race," which he released while on the run from police. The lyrics and video of that song were submitted as evidence in his murder case and the jury ultimately found him guilty for his involvement in a 2016 shooting where 21-year-old Ethan Walker was murdered. Tay-K was part of a group of people who took part in a botched robbery. His sentence was the harshest outside of the man who pulled the trigger. While other involved parties were sentenced to 40 years or less, the rapper's associate who actually shot Walker was sentenced to life in prison. 
Tay-K is facing another murder charge related to his alleged involvement in the shooting of a man named Mark Saldivar in 2017. Authorities believe that Tay-K killed Saldivar at a Texas Chik-Fil-A while running from police.