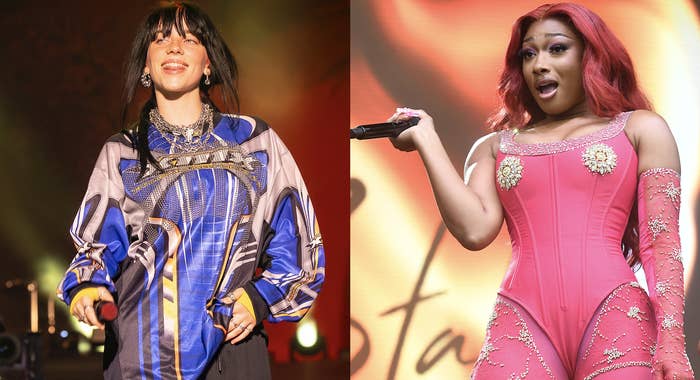 Billie Eilish is apparently loving the view when it comes to Megan Thee Stallion's latest Tiktok.
The Hot Girl Coach made another rare appearance on social media with a booty-shaking video on Tiktok uploaded on Sunday. Megan is seen twerking up a storm in the clip set to a Yeat and Mariah Carey mashup, which has already racked up nearly 2 million views.
"Before the gym 😛 She toned but it still move dont panic 😂," Meg wrote in the caption.
Not long after Megan's video was uploaded, a screenshot began to circulate on social media of Billie Eilish writing, in an apparently deleted comment, "megan I'm literally free whenever."
This isn't the first time the two have shown each other love. The Happier Than Ever singer infamously used her Record of the Year acceptance speech at the 2021 Grammy Awards to praise Megan Thee Stallion for her "untoppable" year. "You are a queen, I wanna cry thinking about how much I love you, you're so beautiful, you're so talented, you deserve everything in the world. I think about you constantly, I root for you always. You deserve it, honestly," Billie said at the time.