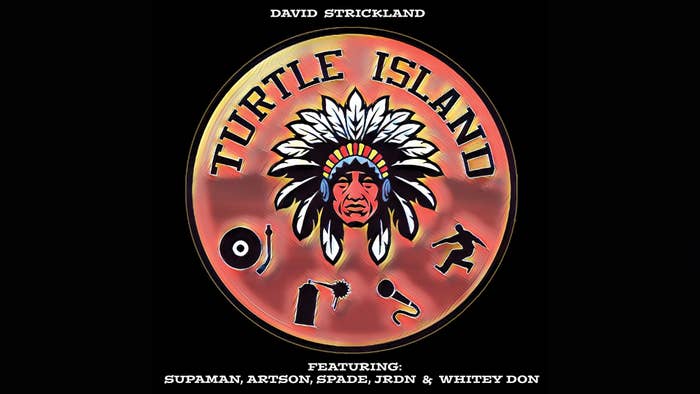 For those of you living under a TikTok-lined rock, there's a crisis happening in BC right now, as the RCMP is cracking down on supporters of Wet'suwet'en Nation chiefs who oppose a pipeline project set to run through their territory. So this seems like an appropriate time for Grammy-winning Indigenous producer David Strickland to drop a state of the union on life in 2020 for marginalized people across North America.
"Turtle Island," the new single from the Scarborough, Ontario-bred board man, is a scathing, hydra-headed posse cut bringing to light the ever-present injustices faced by Indigenous, Afro-Indigenous, and Africans on this continent. Supaman, Artson, Spade, JRDN, and Whitey Don take aim at the widening gap between the haves and have-nots over a propulsive, eclectic sonic hash combining hip-hop, dancehall, reggaeton, and traditional Native music. It's the most informative mashup you'll hear all day.
Listen to "Turtle Island" below.
Strickland, who's helmed tracks for everyone from Drake to Method Man and Redman over the last two decades, chose today to release the new song because it's his daughter's birthday and a cool-ass numerical anomaly (2/20/2020). "I chose this date in her honour, it contains four 2s in it, which signifies strength, resolve, indicates empowered commitments, emotional stability and the fulfillment of sacred contracts," he says in a statement. "That significance rings true on the journey I took creating this song and album. Full Circle."
"It's a huge honor to be able to collaborate with David on this song," Supaman tells Complex Canada. "He has been putting in work with legends for years—some of my hip-hop heroes like Erick Sermon and Redman. The song is a timely gem with the injustices going with the Wet'suwet'en relatives."
Adds JRDN: "Working with David has been dope. He's one of those guys who pours his heart and soul into the music. I connected with him through a mutual friend, Blacka Da Don, and we automatically formed a great relationship and friendship."
"Turtle Island" is from Strickland's forthcoming album Spirit Of Hip Hop, which is set for release June 29 via Entertainment One.