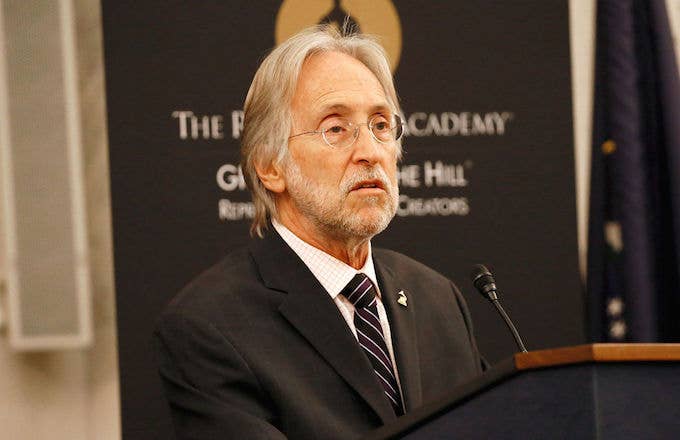 Recording Academy President and CEO Neil Portnow is stepping down from his position when his contract expires next year, according to The Hollywood Reporter. Portnow has served as the head of the organization, which puts on the annual Grammys, since 2002.
The Academy has come under fire for a number of reasons throughout the years, but namely its lack of diversity and representation. This year only one woman took home an award from any of the major categories. When asked about why Lorde, the only woman nominated for Best Album, couldn't perform during the 2018 show, Portnow made some backward comments about how women need to "step up" if they want more representation in the music industry. Meanwhile only 17 out of 86 awards were won by women, and Alessia Cara won the night's only top televised award for Best New Artist.
Portnow later walked back his comments and apologized, but the damage had already been done. Women artists including Pink, Charli XCX, and Katy Perry, as well as Tina Knowles, criticized Portnow for his statement. Vanessa Carlton even started a petition urging Portnow to resign.
A group of six women music executives also penned an open letter calling for his resignation, writing "Portnow's comments are not a reflection of being 'inarticulate' in a single interview," but "emblematic of inclusion issues across all demographics."
According to THR, it wasn't this bad press alone that pushed Portnow to step down. The CEO was accused of mismanaging money by shifting this year's Grammys telecast from Los Angeles to New York City. Portnow's decision comes after a series of meetings with the Academy's board of trustees, which took place in Hawaii last week.