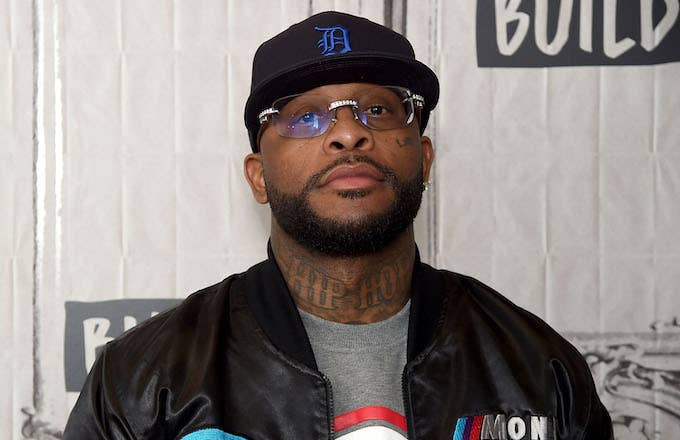 Royce da 5'9" took to social media to once again address Lord Jamar's comments about Eminem.
In a video recently posted to Instagram, Royce slammed the New York rapper for his comments and defended his friend Eminem. "Lord Jamar, you a legend in the game... You running up these views 'cause you got so much controversial shit to say about this one fucking person. He walks away with the check and you walk away with, craving attention... I don't like seeing you in that space, brother. Talking about Em', like, 'real n***as don't listen his music and all that.' First of all, you're not the measuring stick for who's real or who's cool."
Royce also said that there were much more important topics to care about than "rap beef" and touched on JAY-Z's deal with the NFL.
"I ain't never seen no n***a with no money sitting around talking about n***as all day. It's real shit going on in the world. It's kids in Flint who don't even have fucking clean water to drink and you about to fucking bore me with Lord Jamar's opinion on some fucking rap. I don't know one lyric this n***a ever said in my life. Like, c'mon man. We got to get it together. N***as siting around talking about JAY-Z and what he said to Jermaine Dupri. That don't got nothing to do with nothing [...] What steps are we going to take... I stand with Kaep and I stand with HOV. I always stand with HOV. He's never made a decision that I've seen that where he gave me any type of reason to question his motive. I don't have nothing against him wanting to get more billions and claim ownership. There's nothing wrong with that. What y'all don't realize is HOV and Dre shouldn't be the only billionaires in hip-hop. You know how many billionaires we should have? Nipsey Hussle should have been a billionaire. We generate all the fucking money. Being a billionaire shouldn't be unicorn status. That shit should be the norm. We generate the money... We just all the way pushed outside of the business."
The most recent episode of the saga started after Jamar said, "you can't crown somebody king and circumvent the true kingdom." He continued, "Like, white people will crown Eminem king because he sold the most records out of all rappers. But, when we go into everyday life of black people, people who are the originators of this sh*i, we don't fucking listen to Eminem. We don't listen to Eminem." Jamar added that he didn't resonate with Eminem's music because he raps "about smacking your mother and taking pharmaceutical pills..." 
After Jamar made the comments, Eminem responded to the rapper on his Kamikaze track "Fall." Jamar then addressed the mention and declared himself the winner. "I wanted this to happen. Because... See, I'm a chess player, okay? If he didn't respond, I win. And if he responds, I win," he said. Either way, I win, okay? Because you are now doing what the fuck I wanted you to do. I have made you modify your behavior. I got into your psyche. You sat there and had to fucking sit down and try to think of some shit to respond to Lord Jamar's jabs that you know you could not escape. It was just inescapable." 
Even 50 Centgot involved. "Lord Jerome better sit his ass down," 50 wrote on social media. "I thought you died already n***a. Get the fuck outta here. You ain't [Brand Nubian member] Grand Puba anyway. I'm gonna need a bum ass n***a in one of my shows. I'll be reaching out shortly."
Check out Royce's full comments below.