How The Plug Records Created One Of 2019's Best Rap Albums
Complex meets Jack The Plug, CEO of the independent label behind 'Plug Talk'.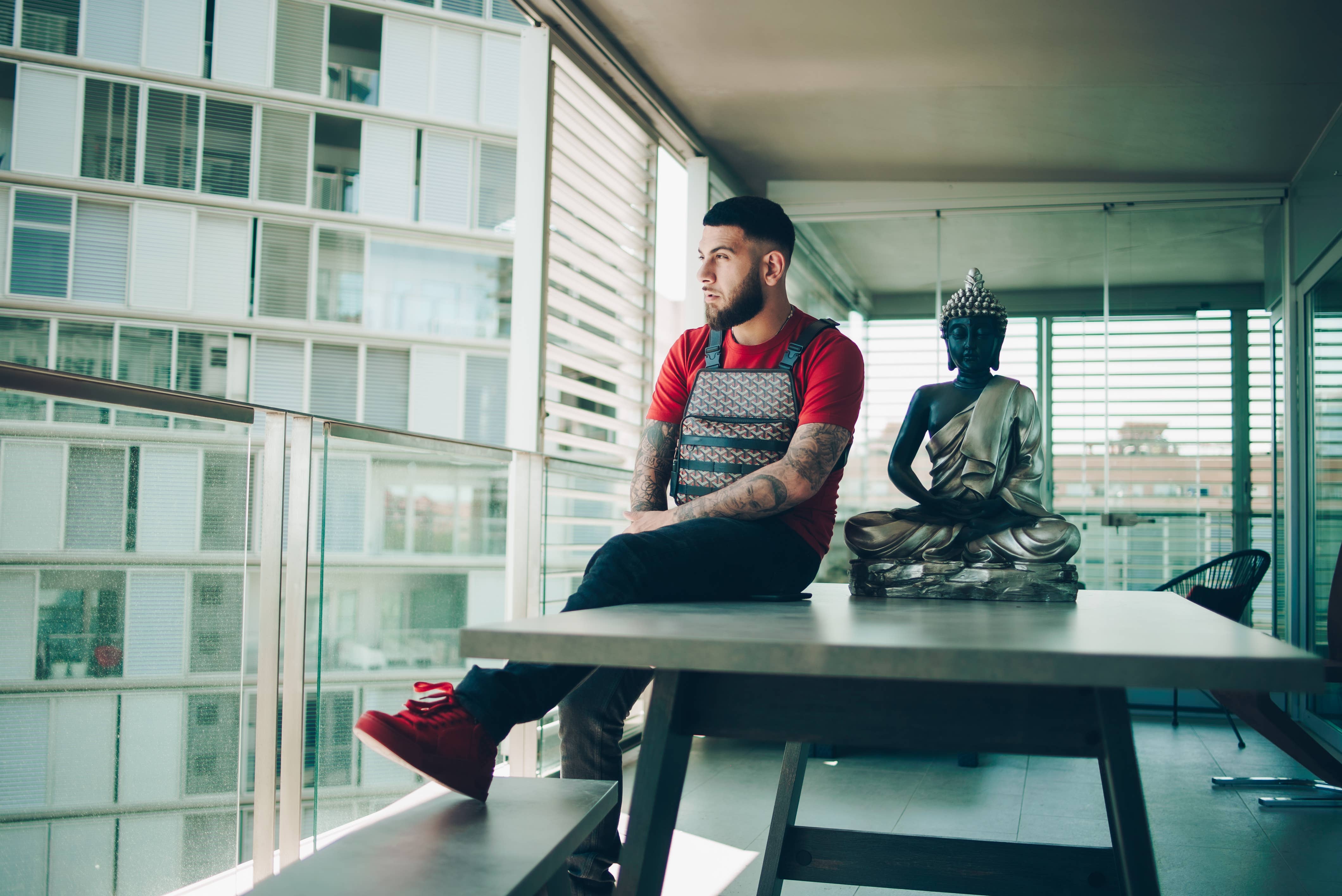 Publicist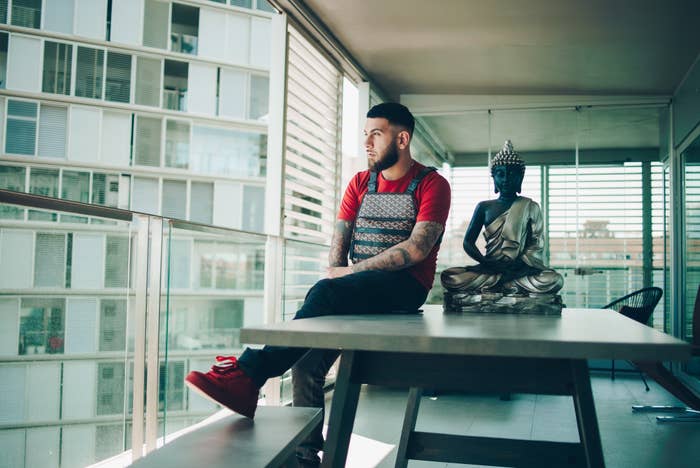 67, Lil Bibby, Nafe Smallz and Offset are just a few of the top-billing names that appear on Plug Talk, the transatlantic rap compilation helmed by popular coffee shop/weed establishment The Plug.
Based out of Barcelona and Amsterdam, both stores have been frequented by weed-lovers the world over, where you can find the finest high-grade and spot your favourite rapper at the same time. Eight months ago, owner Jack The Plug decided to branch out—he and his childhood friend, Sean D, a music engineer, joined forces to create a record label with an aim to build rap relations between the UK and US, and with the biggest rappers in the world passing through their doors, this was really a no-brainer. The end result was a 13-track set entitled Plug Talk, which brought together the crème de la crème in rap music talent.
Lead single "Broken Homes"—featuring Nafe Smallz, M Huncho and Gunna—went on to be an unexpected hit, with its heartfelt lyrics and gently-plucked strings hitting home to anyone that hears it, as did "How It Is" with Roddy Ricch, Yxng Bane and Chip. We caught up with Barcelona-based, London-born CEO Jack The Plug to find out how one of the year's best rap projects came together.
COMPLEX: The Plug Records was birthed out of your coffee/weed shops, The Plug. But what was the aim for the business when you first opened your doors? I'm guessing releasing records was the last thing you were thinking at the time.
Jack The Plug: Basically, we started in Barcelona originally. It'll be three years this August. How it started was I always wanted to have a coffee shop because I loved the culture. We had weed brands and we were part of the community in the UK, but when it never allowed us to open there, we came to Barcelona. Slowly, slowly, artists would come to Barcelona to perform, or for a holiday, and they'd come to the shop. From there, we grew and then I bought a shop in Amsterdam and that's when we decided to move into the music thing properly. It was organic for us because we've got the artists coming through and it was easy for us to do. Easier than other people. 
It's easy to get the artist to do the track because everyone wants to get the bag, but when it comes to clearing it, going through labels and stuff, that's where it becomes tricky and people get stuck and they can't get it done. Luckily, I've got a good friend who's quite involved in the music industry in America. He knows all the labels well so, without him, it would've basically flopped. If you want an interesting story, what happened was about three, four years ago when I got my Instagram, it got shut down, but it was The Plug DCM. That was the first shop. Basically, I messaged this kid on Instagram called The Plug and I was like, "Yo, sell me your name because my shop's called The Plug." He said: "Nah, I'm good." But he followed me and I started following him. We were liking each other's pics and, one day, he messaged me saying, "Call me tomorrow. I need to talk to you." I was thinking this is about the Instagram name. He said, "I've got something for us to do. There's these Canadians, they've got a big company...." I was in L.A at the time, the Canadians flew out and met me and I did something for their company. Then me and this guy started speaking every day and he's helped us throughout the progression of it and how to do it the right way. He's helped us on the album and helped us get features, and it's mad that we met on Instagram. 
Can you remember the first UK artist to come to your shop that you connected with on a level?
Before the shop, a few of the artists were already my friends. The ones to twist me to do the album was M Huncho and Yxng Bane; they recorded a track that my business partner, Sean D, engineered. He was in the studio with them and they basically said, "Yo, do the album. Here's a couple of tracks." So they sent me a couple of tracks to begin with, which pushed me to do it. So if anyone, it's thanks to them two. There's a lot of artists who aren't on the tape that are good friends; they're on future tapes. We've got a lot of tracks ready, waiting to come out. 
What about the first American rapper to pass through that you connected with?
He's not a rapper, but the first ever US artist was Jason Derulo. It's a bit random. When we first opened, his DJ was a good guy, Jae Murphy. He's doing his thing, blowing up quite a lot in America. I connected with him really, more than the actual artist. They were good people. A Boogie's come to the shop, Rich The Kid, Roddy Ricch, Post Malone... A lot of them have come. Roddy Ricch and his people, we really gelled with them. We were fucking with them before they had millions of views [laughs]. Post Malone is good people too; so humble. Some of them obviously don't get on with you, but that's just how it is. 
"There's no label behind us. Nothing like that. We've done the whole project ourselves, fully self-funded. A lot of the features were done out of love, so that helped." 
Obviously, from running a shop to now being the CEO of your own record label is a bit of a shift. What's your day-to-day like now compared to back then? 
I still do both. It's just me and Sean, and I've got a friend in America who I met on Instagram. Between us, we deal with everything as a team. For example, Sean does all the engineering and all the mixing and I deal with the artists and clear instrumentals with labels. My day-to-day life is I'm still doing the shops, but I'm running the label as well. We're really independent.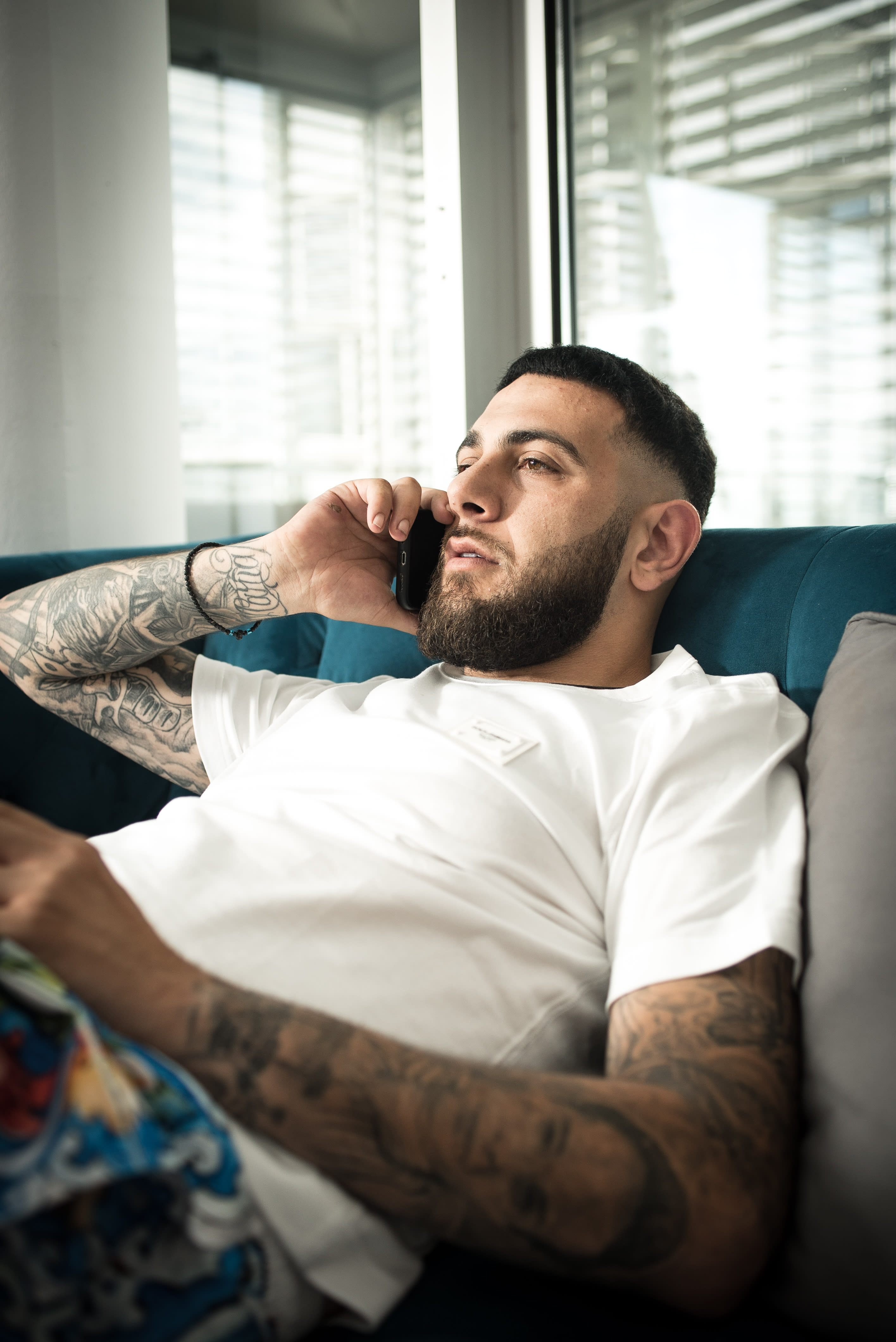 So you've invested money from the shops to make this all happen?
My own money—everything! There's no label behind us. Nothing like that. We've done the whole project ourselves, fully self-funded. A lot of the features were done out of love, so that helped. We've got a studio in London and a studio in Barcelona, but the studio in Barcelona, I've just finished building it and we're about to start a freestyle platform. I'll send you that before it comes out. We've already had loads of artists come over in the last few months; D-Block Europe have been over, Nafe Smallz has come, Huncho's come, Brandz & Tizzy, Tion Wayne, Gunna, Smoke Boys. All these people have come ready. I chatted with some of them and asked if I put a camera on them would they freestyle, and if I could put it on my channel, and they jumped on it. 
"Broken Homes", the track with M Huncho, Nafe Smallz and Gunna, was the song that made me sit up and say, "Who are these guys, The Plug?" I'd heard of you lot before through friends going to the coffee shops, but this track made me properly look you up. Did you expect the song to do massive numbers right from the jump? 
This is how it all started. I remember when we were kids, me and Sean, we used to go to the studio in a garage so I used to see Sean do his mixing and engineering for artists. I would always tell him, "Well done, you're killing it. Keep doing your thing, man, I see the progression." Fast forward and we start chatting one day last year, and he says we should make an album with a couple of American features on it. I kinda slept on it but then, when I was in America, I spoke to Sean and he was doing some work with M Huncho and Bane, and he sent me a few tracks. So it was meant to be a smaller project because when we do something, we like to make sure we can do our best and try to put in the work. So to answer your question: I didn't expect "Broken Homes" to blow up like it did, but the support from the people has been mad! Everyone's showing love, and they love the project. Without everyone being as good as they have been, it would never have happened. We wouldn't have got to where we are.
Where are you, yourself, currently based?
I grew up in London but I moved to Barcelona because of the shop. I'm in between London, Barcelona and Amsterdam.
So you're not really in the mix, so to speak, of the UK music industry. When new people come into the music biz and shake things up, a lot of people—and I've been guilty of it too—they get a bit wary, like "who are these people?" Have you come up against any of that yet or has everyone been showing you love? 
All the labels were being funny with us but, obviously, that just means we're doing something right. So we're just carrying on and continuing, really. I try to build relationships with people and not ruin them so whoever's been funny with us, it's not a problem. I've just kept it humble and kept it moving.
Let's talk about the album. "Tommy & Ghost" by 67 and Lil Bibby is my personal favourite track on there right now—what would be yours?
"Broken Homes" is one of my favourites; it started everything off, and it just goes well with all of the artists on it. I also like the D-Block Europe and Offset one ["Rich"] a lot.
Yeah, that's a vibe. The video's hilarious, too.
You know what? I'd probably say "How It Is" [by Roddy Ricch, Chip and Yxng Bane], "Broken Homes" and "Rich" are my favourite tracks. 
Did everyone record in the studio together, or was it a mish-mash?
Offset and D-Block were in the studio together. Gunna, Huncho and Nafe... Nafe and Huncho recorded together and then we were in the studio with Gunna in America. Everyone recorded their parts differently. It was mixed. It depends on the situation, where the track was done.
How long, roughly, did it take to put together?
From start to finish, about seven months. 
That's quick, especially when rappers are known for being long.

Yeah, they are long. But you've just got to be patient. 
Not just your project, but in general, I've noticed a lot of artists from the States don't really promote their collabs with UK artists as much as they should. I actually get offended when I see that. 
I can understand that. I fully hear you...
—have you encountered that with Plug Talk? 
We encountered it straight away! A lot of it is down to certain circumstances, but sometimes artists are just cunts [laughs].
The hip-hop and grime scenes are quite strong out in Amsterdam and Barcelona—would you ever consider signing some of those artists to the label directly?
We're working with 3Robi, who's a Dutch artist. He's mad big in Holland. We worked with some artists from France as well. In Barcelona, we haven't really found the right person, but we've got a couple of UK artists that are coming through and we're about to announce that we've signed them. We've got a whole project already lined up for them. We're concentrating mainly on England right now because that's where we grew up and that's where our sound comes from.