ASAP Rocky's Arrest and Trial: Where It Stands Now and What Comes Next
ASAP Rocky finished his assault trial in Sweden. Here's what you need to know about the arrest, the trial, and what comes next.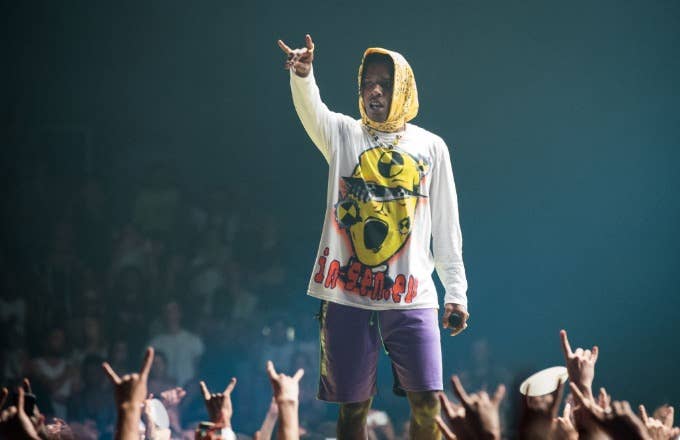 Getty
Image via Getty/David Wolff - Patrick/Redferns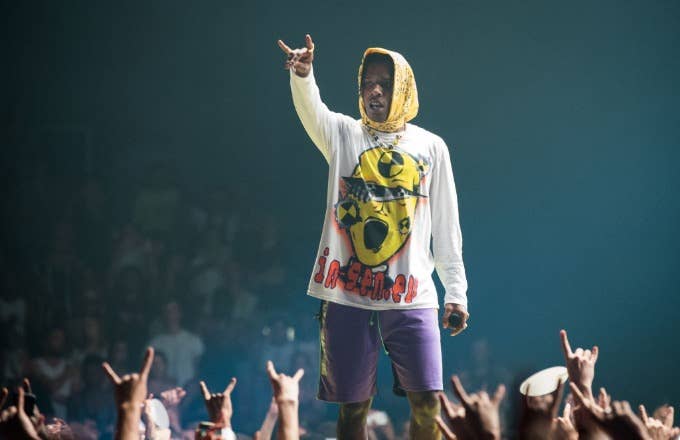 ASAP Rocky has finally been released from jail in Sweden as he awaits for a final verdict on August 14, after undergoing trial for assault in connection with an incident he says was brought on by harassment from two "drug addicts," the call for his release. Rocky and his co-defendants are allowed to leave Sweden while awaiting the verdict.
Since his arrest, there had been reports of "horrific" conditions of the holding facility, and his incarceration prompted a sanctioned Change.org petition demanding justice. He pleaded not guilty at trial. Among the  #JUSTICEFORROCKY support campaigns has been, for many, an escalating feeling of confusion regarding how Rocky ended up behind bars for an incident both he and his team have argued was a matter of self-defense. The footage Rocky shared to his Instagram, which last saw Rocky share a pic of a NOFX tee in a Stockholm-tagged post, appears to back up his self-defense argument.
As we wait for the verdict to be announced on August 14, we take a look at the timeline behind ASAP Rocky's arrest, where his situation stands now, and what might come next.
Alleged fight footage surfaces
The incident in question went down in Stockholm on June 30, with footage surfacing via TMZ and similar outlets the following day in which Rocky and several other men are alleged to be seen in an altercation with the two men Rocky later seen in context-providing footage on his Instagram. 
Initially, local news reports did not specifically name Rocky in connection with the fight. Rocky had been overseas at the time for some international festival performances, a run which was set to wrap up ahead of Rocky's headlining set at the inaugural Real Street Fest back in Anaheim, California in August.
Rocky shares footage of his own and explains that the men were following and harassing him.
"We not trying to go to jail . . . It's OK, bro, chill," Rocky is seen in one clip telling the men, whom he characterized as "a few drug addicts [who] are not my fans." Rocky's story, later bolstered by manager John Ehmann, posits the men as having not only harassed him and his crew, but also women on the street.
"Video footage shows the assailants following Rocky, while he pleads to them that he does not want any issues," Ehmann said in a post pointing fans to that aforementioned petition Tuesday. "Rocky volunteered to go to police for questioning. Rocky and his colleagues were arrested on-site."
A judge clears the way for Rocky to be held for two weeks.
In a matter of days, Rocky had been ordered by a Swedish court to be held for two weeks in pre-trial detention. Again pointing to the self-defense nature of the case, defense lawyer Henrik Olsson Lilja said in a statement obtained by THR that the ruling would be appealed.
As Ehmann explained Tuesday, an appeal Rocky's team filed with the Swedish Supreme Court to have him released on the grounds of the "inhumane" holding conditions marking a human rights violation was rejected. 
The conditions of the holding facility are said to be "horrific."
TMZ ran a report early Tuesday citing sources in possession of "direct knowledge" detailing the allegedly dire conditions under which Rocky is being held. The report claimed the "disease-ridden" facility had Rocky using a blanketless yoga mat for a bed, eating just one apple a day for the first five days of his detention, and being held next to an inmate struggling with "severe" mental health problems. That inmate, according to the report, often slams his head against the wall and throws feces around the facility that is allegedly not cleaned up by staff.
Ehmann confirmed many of the sources' claims, detailing in his previously quoted Instagram post the conditions with which the artist was being forced to contend at the Stockholm Detention Center.
"The conditions of the facility are horrific and include 24/7 solitary confinement, restriction of amenities for the most basic of human functions, lack of access to life sustaining food, as well as unsanitary conditions," he said.
Later, BBC News got a statement from "Sweden prison boss" Fredrik Wallin, who disputed these descriptions. While Wallin is unable to speak on the conditions of individual prisoners, he claimed this week that facilities are in "good condition." Wallin also said he's not aware of any current diseases.
Tyler, the Creator, Schoolboy Q, and others pledge to avoid Sweden in protest.
As the stateside pushback against Rocky's treatment continues, friends and collaborators alike have stepped up with words of support. Tyler, the Creator, Schoolboy Q, and T.I. were among those calling for an outright boycott of Sweden in light of Rocky's detainment. Post Malone and Vince Staples also offered words of support, while Sheck Wes recalled an incident he had at the hand of Swedish authorities in which he was allegedly strip-searched without consent. Travis Scott, meanwhile, tucked a "Free Rocky!" message into his Wireless Festival set.
ASAP Rocky goes to trial in Sweden.
On Thursday July 25, Swedish prosecutors decided to charge Rocky and two of his entourage members with Assault Causing Actual Bodily Harm. The charge carries a possible two-year sentence, though the prosecutor told TMZ that they will ask for a lighter sentence. According to the prosecutor, Rocky's self defense claims that he was acting in self defense don't hold up.
The trial for Rocky and his co-defendants began on July 30 with Rocky pleading not guilty. The second day of the trial, a thorough account of which you can read here, had testimony from Rocky's accuser Mustafa Jafari and the star himself. Jafari claimed that he did not know who Rocky was. Instead, Jafari testified that he had lost a friend and approached Rocky's team for help. Rocky's lawyer in turn said that "doesn't feel like sober behavior." 
Rocky, for his part, testified that he believed both men who approached him that day were on drugs, and followed him when he attempted to leave. He admitted to briefly picking up a bottle in order to keep it out of reach of his antagonists, but put it down after realizing it was "stupid" to hold it. Meanwhile, news broke that ASAP Rocky's alleged victim, who was recorded harassing the rapper and his crew in Sweden before provoking them physically, has a criminal assault record.
The trial concluded on August 2, the third day of proceedings. A man who was with the alleged victim testified before the court, as well as Rocky's bodyguard, and Rocky himself. Rocky's bodyguard and Rocky each testified that the incident was an act of self-defense in a fearful situation. Reporters on the ground shared that there was tension during the final moments of the day in court, as Rocky's attorney and the prosecutor gave final remarks. You can read all the details about the third day in court here.
What now?
At the end of a long third day in court on Friday, the judge announced that ASAP Rocky and his co-defendants can be released from jail as they await the announcement of a final verdict on August 14, 2019. They are free to leave Sweden during this time. 
Early on Friday, prosecutors reportedly asked the court to give Rocky and his co-defendants a six month sentence. But Rocky's defense stood strong in their position that the incident was an act of self-defense. Many are speculating that Rocky being allowed to leave Sweden is a sign that no jail time will be required.
Thank you from the bottom of my heart to all of my fans, friends, and anyone across the globe who supported me during these last few weeks," Rocky wrote on Instagram Friday afternoon. "I can't begin to describe how grateful I am for all of you. This has been a very difficult and humbling experience. I want to thank the court for allowing me, Bladi, and Thoto to return to our family and friends. Thanks again for all the love and support.