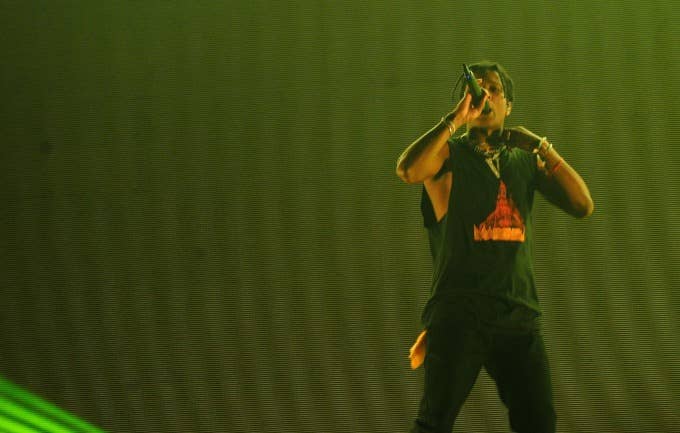 Rocky's trial in connection with an incident he's said started when two men began following and harassing him and his team began Tuesday in Stockholm District Court, CBS Newsreported. The trial is projected for a three-day run, though it's not known if it will actually go that long.
Due to media interest, the trial is being conducted in a secure court facility in which photo and video is extremely limited. The assault charges against Rocky and two others could lead to a two-year sentence if a conviction is handed down. Rocky, who's been in custody since early July, said when captioning Instagram footage related to the incident that the two men in question were "a few drug addicts [who] are not my fans." They had followed and harassed him, he said, as well as women on the street.
Among those who attended Tuesday's hearing was U.S. diplomat Robert C. O'Brien, who serves as President Trump's special envoy for hostage affairs.
"The president asked me to come here and support these American citizens," O'Brien told the New York Times. "I'll be here until they come home."
Outside the court facility, a large crowd gathered in anticipation of the trial's developments. There were reports early Tuesday of a press pass shortage, as well as comments attributed to a defense attorney arguing that testimony "from two new witnesses" could be enough evidence to change the course of the proceedings.
Rocky's legal team, per TMZ, will grill the accuser during cross-examination and will be calling those two aforementioned witnesses to the stand Thursday. One witness is said to be the bodyguard, while the other is an unidentified person who reportedly "saw something interesting.'
Regional journalist Markus Karlsson also shared a recording from inside the court room in which the prosecutor can be heard presenting his case. Among the early highlights from Tuesday's proceedings are that Rocky's team has argued that he threw the plaintiff to the ground because he believed danger was imminent, with the defense adding that Rocky "did not participate" in kicking or punching the man in question once he was on the ground. There's also been great dispute over an alleged broken bottle and alleged cut marks, with the defense arguing that any such cuts could have also originated from the pavement or loose gravel.
Defense attorney Slobodan Jovicic argued that Rocky and his team "didn't want any trouble," but the alleged victims had demonstrated "aggressive and deeply provocative behavior."
"[Rocky] has been harassed in the past. In this case, the bodyguard made the assessment that these people (Mustafa Jafari and his friend) should move on ... and not to come close," Jovicic said, as reported by the Associated Press.
Per ABC News' Sabina Ghebremedhin, a photo of the broken bottle was shown, with the prosecutor confirming that the DNA on it did not match Rocky or his co-defendants.
The case presented by prosecutor Daniel Suneson includes CCTV footage and texts that they argue show Rocky and the co-defendants as having started the incident, with the Washington Post reporting that the alleged use of the bottle will be "central" moving forward. Additionally, Suneson alleged that some texts suggested Rocky and the co-defendants had "cleaned up" Instagrammed footage of the incident.
The accuser spoke during Tuesday's proceedings. "I felt like they were going to beat me to death," he said.
Despite his situation, Rocky is said to be "in good spirits" and is appreciative of fans' ongoing support.
"He just wanna get home," ASAP Ferg wrote on Instagram earlier this month. "Waiting on that court date to see wassup. He sends his love! Thank y'all for all your support. This shit is really annoying honestly because it really don't make sense to me. But I'll let God work the way he works."
Fans and fellow artists alike have condemned the handling of the case, with a petition for his release going viral off the strength of high-profile shares from Justin Bieber and more.