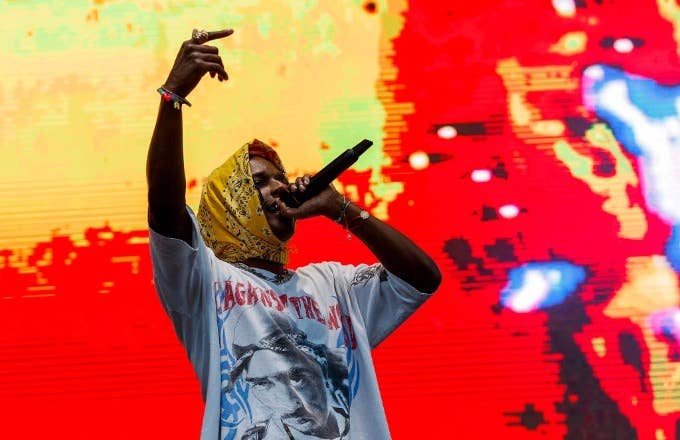 UPDATED 8/3, 10:30 a.m. ET: The Associated Press and L.A. TV stations report that Rocky departed Sweden on Friday and landed in Los Angeles International Airport late the same night. He was seen coming out of a private jet with a group of people.
TMZ, which has some distant footage of Rocky chilling in the private terminal parking lot, reports he "was ecstatic ... smiling, taking pics with folks, hugging people. He actually stayed in the private terminal parking lot for around 45 minutes, talking and joking most of the time."
See original story below.
Following a gruelingly long day in court Friday, a judge has announced that ASAP Rocky and his co-defendants in the controversial Sweden assault cause can be released ahead of the announcement later this month of a final verdict.
The move comes at the end of the third day of trial proceedings, with multiple breaks initiated during Friday's testimonies and other comments from both sides, a discourse that again saw the topic of bottles allegedly used by one of the parties brought to the forefront.
Per reporter Maddy Savage, who's provided continuous and reliable updates on the trial all week, a final verdict will be announced Aug. 14. Per attorney comments, Rocky and the others are not required to remain in Sweden.
Rocky's bodyguard also testified Friday, echoing previous in-court and social media comments from Rocky in which the incident was characterized as an act of self-defense in the face of what Rocky and his team have called a fearful situation.
Amid the weeks-long controversy, an assortment of fellow artists—including Post Malone, T.I., and Tyler, the Creator—either called for Rocky's immediate release and/or threatened to boycott Sweden on future tour routings.
Earlier Friday, it was said that prosecutors were advising for Rocky and the co-defendants to be given at least a six-month sentence for the alleged assault, with closing arguments from the prosecution suggesting the June 30 incident with Mustafa Jafari in Stockholm was deliberate. Rocky's defense, however, strongly pushed back against this with reiterated arguments of self-defense.
During his testimony earlier this week, Rocky noted how "strange" it was that the assault accuser approached him and his team.
"Their behavior was very weird and we didn't know what to expect and it got a little scary for us," Rocky told the court.
Rocky also shared a message thanking everyone for their support through this "very difficult and humbling experience."