DMX has dodged additional legal trouble.
According to TMZ, the 48-year-old rapper is off the hook in the "stolen" Corvette incident that took place back in May. DMX and his entourage were leaving the STK restaurant in Hollywood, when the valet mistakenly gave them the keys to another man's Corvette. The group apparently didn't notice the mix-up and drove to the Sunset Strip.
After the Vette's actual owner realized it was no longer in the lot, he called the police and reported the vehicle as stolen. The valet owned up to the mistake and informed law enforcement where DMX was headed. Though police recovered the sports car without making any arrests, attorneys later told TMZ they were concerned the incident would result in more legal problems for DMX, who is still on probation from his tax evasion case.
This weekend, DMX's legal team told the outlet their client was cleared in the Corvette case, as federal investigators determined there was no wrongdoing on his part. DMX's lawyer, Murray Richman, claims he is no longer at risk of getting hit with a probation violation, as his PO reassured him "everything is fine."
In other DMX-related news, the rapper recently called out South Carolina authorities for publishing a police sketch that looks exactly like him.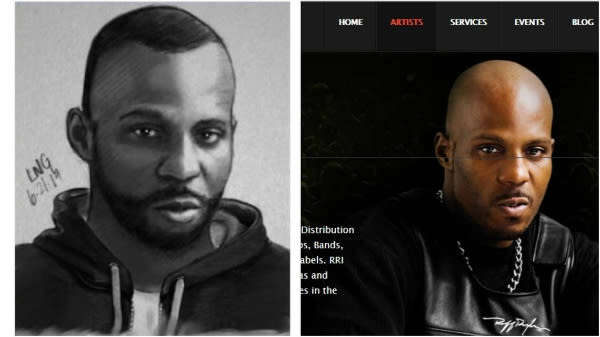 "I think they fucked around and took a picture of me ... and added hair to it," he told TMZ about the now-viral sketch. "They know I'm on parole man! That's definitely a picture of me, I mean think about it, you never seen the police capture that much detail, you know? Like, c'mon. Police sketches be like outline shit, it'll be real quick. That's a fucking drawing right there, that ain't no sketch."
A spokesperson for the South Carolina Law Enforcement Division has made it clear that the person in the sketch is not DMX; it's a suspect who is accused of shooting a man outside a Columbia apartment complex. Witnesses described the man as looking "a lot like DMX," which explains the similarities.