Even without a video, Lil Nas X's country trap megahit "Old Town Road" has barnstormed its way into becoming a full-blown charts mainstay. Remixes from CupcakKe and Diplo added a boost, not to mention the particularly strategic addition of Billy Ray Cyrus and a perfectly executed interview with Nardwuar.
Now, we get the Calmatic-directed video. Chris Rock, Haha Davis, Rico Nasty, Diplo, Jozzy, Young Kio, and Vince Staples all make cameos. Catch the experience, billed as a "movie," up top.
In full cinematic fashion, "Old Town Road" has also been given the poster treatment: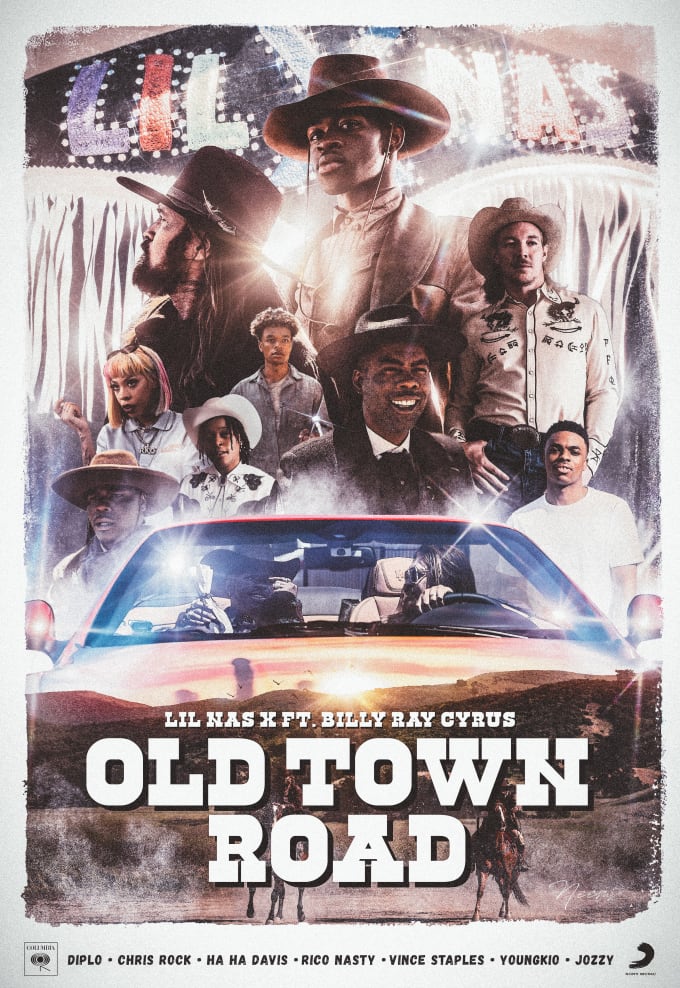 The track first started coming together when X was living with his sister and plotting his next move in life. When breaking down its evolution for Genius in April, he addressed the Billboard chart controversy that ultimately inspired the Cyrus addition. 
"I was just happy to be on Billboard at all and even after they did take it off, I was like, OK, at least I'm still on Billboard," he said. "After listening to other songs that's actually on that chart, it's like, wait a minute. Something's not right, basically." The track's chorus, he added, lyrically represents the idea of leading yourself to your own path of success, i.e. the "Old Town Road."
For his upcoming full-length, X appears to be crafting some more crossover events with similar potential. Earlier this week, for example, he was in the lab with blink-182's Travis Barker.
We getting Lil Nas X on the new blink album, Trav?